Central Arkansas Gets Lit: Christmas Lights Promote Holiday Spirit
It's that time of year again:  Christmas tree lots are everywhere, radio stations are playing holiday music 24/7, and you can't go outside without a warm coat. The holiday season is no doubt upon us and perhaps one of the most recognizable signs that Christmas is near is evident in the bright Christmas lights that appear everywhere, from people's front yards to public buildings and walkways.
Three of the best places to get a glimpse of Christmas lights can be found right here in Pulaski County.  Each experience provides a different perspective and viewing interaction that is bound to get your attention and warm the heart of any grinch.
Downtown Little Rock Light Display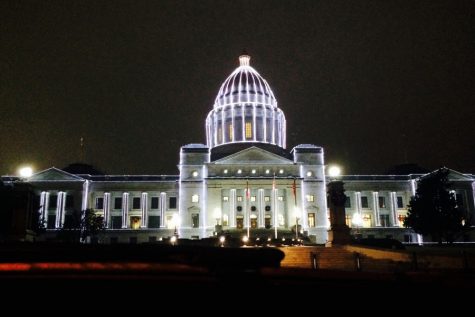 If you're driving through downtown Little Rock around 6th and Main, you'll notice that many of the trees lining the sidewalk are wrapped in lights.  These bright white lights continue for several blocks until something much bigger and brighter catches your eye. The Arkansas state capitol building is lit up from top to bottom, including the dome. The Simmons bank building has its usual "tree in the window," which are green lights turned on only in certain windows so that the building looks like a big Christmas tree, which can be seen from I-30. The Main St bridge and Junction Bridge are both lit up with green and red. Downtown is full of a variety of displays, all with separate styles.
The City of Sherwood Enchanted Forest
In north Pulaski County, just past Sylvan Hills High School, and beginning at the Sherwood Sports Complex, Sherwood's Enchanted Forest offers free viewing of almost 100 of their best Christmas light scenes.  The "drive thru" experience allows for viewing of the lights without getting freezing cold.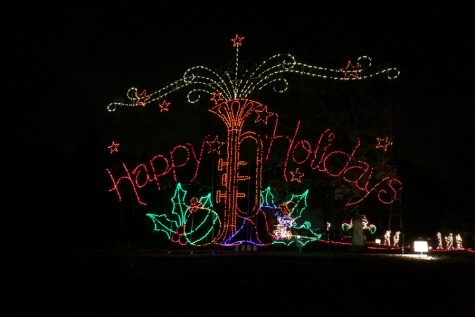 There are displays of everything from Santa's workshop to larger-than-life displays over 15 feet tall. Over 40 of the presentations are animated, which adds more dimension to the usual basic light display.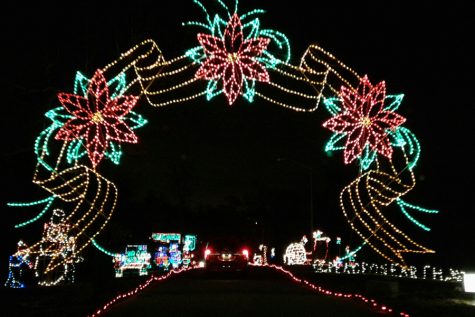 The Enchanted Forest is free, and is open through December 30. Volunteers are accepting canned food donations benefiting the Arkansas Food Bank. The tour is one and a half miles long with free candy canes at the end.
Holidays in the Wild at the Little Rock Zoo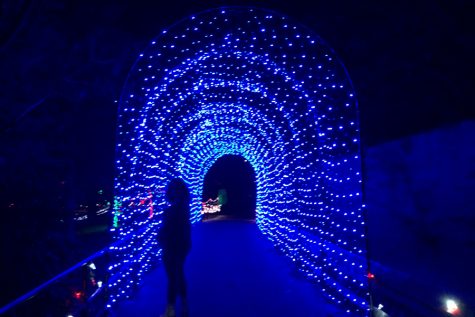 The entrance to the Little Rock Zoo's Holidays in the Wild is decorated with colorful lights and cutouts of animals featured in the zoo.  Inside, walkways are lit up in many colors.  Tents are set up everywhere, offering everything from cookie decoration to hot cocoa.  All these activities are included with paid admission.
One of the most exciting activities that Holidays in the Wild promises is interaction with some of the animals.  Phoenix the African penguin, Waffles the possum, and Wiley the screech owl were featured up close.  Visitors are able to pet and play with Waffles and Phoenix while learning fun facts about them.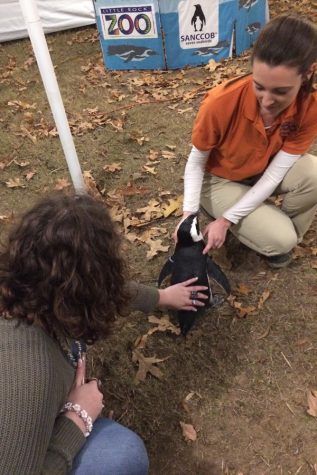 If you're still hungry after munching on cookies and sipping hot cocoa, the zoo offers several food truck choices including Loblolly Creamery and The Southern GourmAsian.  Free rides on the Carousel and "Polar Express" train add to the fun while Christmas tunes play over the loudspeakers.
"As boring as I thought it would be, it ended up being one of the best experiences I have had this holiday season,"  sophomore Ann Rayburn said. "Just be sure to go with some friends to make it fun."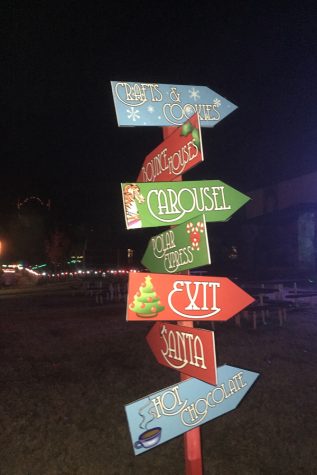 Holidays in the Wild runs from 6 – 9 p.m. through December 11 and all activities (not food trucks) are included in the $10 admission.