Scholarship Season Satisfies Seniors
Prior to senioritis symptoms of every student's final year of high school, the rush of getting college applications sent out, completing financial aid and getting accepted wares of the minds of every senior. Though these priorities possess great importance one has begun to rise above all others…scholarships.
With the yearly increase of college tuition comes the increase of scholarship applicants across the nation. Many central instructors and counselors stress the importance of applying due to the steep costs to obtain a decent college education. Although competition is tough in the highest paying scholarships many students still express positive feelings in regards to attempting.
"Scholarships are an important part of senior year because the amount of scholarships I get this year will determine what school I go to next year," senior Kennedi Lawson said.
Lawson was recently rewarded a five hundred dollar Omega Psi Phi scholarship that will go towards her college fund which gave her a sense of accomplishment for her hard work throughout her high school career.
"When I found out I had received one of the scholarships, I felt like I was finally getting started on my college journey. [Although] I haven't really had much time to apply for many other scholarships, there will be many more to come." Lawson said.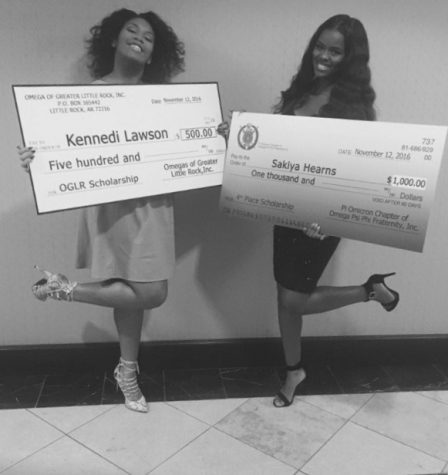 Many other seniors like Lauren King express the same feelings of accomplishment when advancing to the semi-finals of the nationwide Coca-Cola foundation scholarship fund.
"When I found out that I was in the semi-finals for the Coca-Cola scholarship I was very surprised, out of 87,000 applicants I was chosen to be a semi finalist for the region. There was nothing really to prepare for, it [just] took dedication and hard work!" King said.
In her case, King's volunteer opportunities throughout high school (some being with Central) aided her in the scholarships qualification.
"I have recently applied to a lot of other scholarships. I think that scholarship money not only helps out yourself, but to help your parents out in the college process." King continued.
For all students and parents scholarship money decreases the pressure on the financial aspects of a college education. Although many seniors are scrambling to gather as much money as they can before the fall semester of freshman year, scholarships are always available to not only high school seniors, but also college students of all ages, majors, and schools. Nevertheless, it remains important to be proactive in obtaining different scholarships of all aspects.