Students React To Trump's First Week In Office
Oaths, Promises, Alternative Facts- Oh My!
There's no doubt that last week's inauguration of Donald Trump left the students of Central walking the halls dazed, confused, and a little bit unsure about the future of our nation. Many students dreaded Jan. 20 with every passing day; others savored the last moments of Barack Obama's presidency; and a few saw the coming of Trump's swearing in as a new beginning for the people of the United States.
President Obama's exit from office tugged at students' heartstrings. Leaving the Capital by helicopter, he and former First Lady Michelle waved goodbye to the people they had led for eight long years, a sad sight for many students who had seen them as a significant presence in their childhood and teen years.
Senior Madi Stephens grew up under an Obama presidency and feels nostalgic about the end of his term.
"I will miss Obama immensely," Madi said. "Not just because he's the coolest President, but I'll miss his awareness of social issues that I worry will not be adequately addressed in the coming administration."
Obama's leaving also weighs heavily in the mind of senior Karina Bao, who has appreciated his role as a diplomatic leader not only for the U.S., but also for many foreign countries who look to it for guidance and aid.
"I'm going to miss his ability to reconcile different factions in the international community and actually put pressure on other leaders around the world," Karina said.
On Friday, many teachers showed news coverage of the event on Smart Boards, letting students see for themselves the new President and first lady arriving at the White House, heading to the Capitol, and viewing the parade from above.
Sophomore Carson Whaley said he watched with a sense of obligation rather than entertainment.
"I didn't enjoy it," Carson said. "I just think it's important to watch because it's a big moment in America."
One overall feeling that everyone experienced was dismay, not at the inauguration itself, but at the drama that wreaked havoc in the White House concerning the size of the inauguration crowd only a day later. White House Press Secretary Sean Spicer was scheduled to have his first press briefing on Monday, Jan. 23, but he had a surprise one on Saturday where he said Friday's crowd was the largest of any inauguration ever, an inflammatory falsehood that has since been disproved. President Obama's 2008 inauguration, which attracted 1.8 million people, had nearly triple the number of participants.
Carson said he doesn't necessarily buy it.
"I think a lot of the media lies on both sides," Carson said. "They said that the Martin Luther King statue was [taken out of] the oval office when it wasn't, and that's just another example of people lying just trying to get attention."
Freshman Pallavi Prodhan is skeptical of Trump's staff picks, including Spicer, who the President's overall success could depend on in the months and years to come.
"Well he already appointed some really bad people who obviously shouldn't be the secretaries of their departments," Pallavi said. "They're not fit to be in those departments and they're all just lying about credentials and all that stuff. It just makes me dislike them even more."
The crowd debate wasn't the only thing standing center-stage this weekend. Protests broke out all over the country. The Women's March was taking place in D.C. at the same time the President and First Lady attended an inaugural prayer service at the National Cathedral. In addition, freshman Caitlin Dillard decided she would do a personal protest of her own at school.
"My take on Donald Trump [is that] our president is very unacceptable to me because I don't think he has the qualifications or the knowledge to [be] our president. So, I am no longer standing for the Pledge of Allegiance for that certain reason," Caitlin said. "It's not appealing to me as him being our president for what he has said and what he has done."
Another shaky start to Trump's term occurred during his visit to the Central Intelligence Agency on Saturday. He spoke in front of the Memorial Wall and took the opportunity to state more 'alternative facts' regarding the crowd, as well as directing blame towards the media for skewing his words concerning intelligence agencies for supposedly leaking information about alleged ties between him and Russia. He went on to tell the CIA during the visit that he was with them '1000%,' a move that left junior K'yonna Patrice Harris feeling a kind of whiplash.
"I just feel that he's constantly a flip-flop. Whatever he wants or whatever he needs or whatever, he'll try to change it," K'yonna said. "Everything he says before he's trying to change and flip, and that's why I think he's not a trustworthy president because he's constantly flip-flopping for what will work for him or what gets him out of the bad light."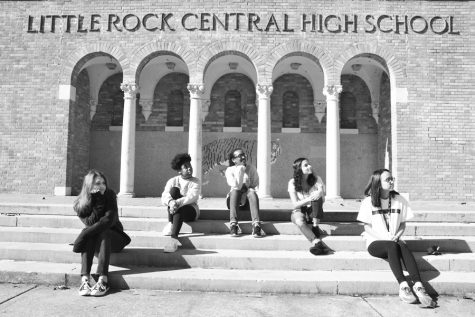 After the long first weekend of his presidency, Trump signed several presidential memorandums on Monday, his first official work day. One of these memorandums halted the hiring of federal workers, excluding the military. Another vowed not to fund family planning organizations in foreign countries unless they comply to strict rules about how they would conduct business. The third was a withdrawal from Trans-Pacific Partnership, a trade deal between the US and 12 other countries. Sophomore Dreshon Ellis supports the president and the first steps he's taking as commander in chief.
"I feel that these actions he's doing [are] going to affect the economy in many ways and Donald Trump… I feel like he is a great President," Dreshon said. "He's trying to make America great again by these small actions he's doing."
On the other side, sophomore Ellis Golden has concerns about the intentions of Trump. She explained her worry about the undoing of many programs President Obama championed like the Affordable Care Act as well as support for Planned Parenthood.
"He has completely opposing views and the fact that now, only three days into office, he has already done so much that is the complete opposite of what Obama wants to do, tells us that he is planning on reversing a lot of the things that [Obama] has gotten done," Ellis said.
Despite the shaky first week, however, some students, like senior Labrian Phillips, are hopeful about America's future under Donald Trump.
"I honestly think that a lot of people are just over thinking the inauguration," Labrian said. "A lot of things that we think the President can do, they can't even do because they have to go through stuff that has to go past Congress, and there's a long process for what the President can even do, so I think we'll be just fine."
It's hard to tell where the Trump presidency will head next, but it's evident that students are just going to take it one day at a time. If it is anything like what we've seen this first week, we're certainly in for an interesting four years.