Painting, Drawing, Creating: Student Survives On Art
Junior Rachel Struthers sat on the floor of her room recreating the loneliness she felt inside onto the canvas in front of her. Her mom and step dad calmly moved around the house while chaos ensued in her head. Art was the only thing that made her truly happy. She knew it never would've worked with him, but the art was worth the pain.
"Sometimes I make bad situations to make good art, but I once heard 'a smart man learns from his mistakes, and the wise guy learns from him, so I try to watch that," Rachel said.
Rachel started out wanting to be a farmer, but after drawing for an assignment in first grade, she knew she was going to be an artist. Her parents noticed and encouraged her with new art supplies. Soon, they started entering her in art contests. She won each one, which encouraged her to continue creating into middle school. The drama teacher there asked her to paint backgrounds for their play, "Never Saw Another Butterfly," about a child in a concentration camp. She skipped a week of school to finish all the backgrounds. Although she didn't realize it at the time, she started developing her artistic style as a grungy, colorful mash up of improvised mediums.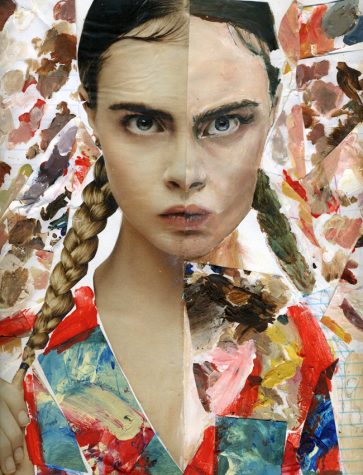 "People relate most to tragedy. Everyone has been there," Rachel said. "Being a hormonal, teenage girl with lots of emotions, my art is a big buildup of that."
As for the creativity behind her art, it just comes to her. Occasionally there's an emotional spark, but for the most part everything comes from her subconscious. One time, she painted angels for art class, taking her religious upbringing – and her rejection of it- to another level: cold colors and angels with bored expressions.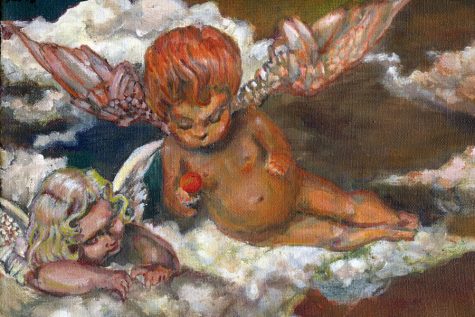 "I don't want boring art. That's easy to sell. I want art that makes people stop and think, even if it doesn't sell well," Rachel said. "That's the problem with art nowadays. Everyone is too complacent… the compromise is money."
Rachel plans to attend an art college and wing the rest. She knows she can handle whatever life has to throw at her as long as she can keep painting.