Church League Basketball Dribbles Into New Season
A basketball player walking down the hallway can be easily recognized due to either their height, their performance at last night's game, or maybe just by the fact that they are dressed out on a game day. However there are several basketball players roaming Central's hallways that cannot be detected. These players are ordinary people who may not have the height or skill to play on a school or club basketball team, but their passion for the game matches any other basketball player around. These players play church league basketball.
Church league basketball has been an outlet for all the wannabe basketball players since 1977. Originally the games were played at Asbury United Methodist Church, and in 1994, Asbury decided not to host the league anymore. Many people involved with the league did not want to see such a fun and community oriented extra curricular activity die out, so it was soon picked up by Pulaski Heights United Methodist Church where it is still played today.
This year there are fifty four teams in the league, which has gotten so large that it has to be split up into four sub-leagues: the girls league, junior and senior boys league, sophomore and freshman boys league, and the seventh and eighth grade boys league. The girls league has gone from being the smallest of the sub-leagues to the largest with twenty-two teams.
With the league's constant growth, the program has expanded and been able to reach a much larger community of people. Currently, there are twenty-five Methodist teams from four congregations, fourteen Roman Catholic teams from six congregations, one Baptist team, two Episcopalian teams, one Church of Christ team, and one non- denominational team.
The coordinator of church league, Jay Clark from Pulaski Heights United Methodist Church, has tried to be as inclusive as possible and accommodate every player's situation
"If someone wants to play church league and does not have a team to play on or if a smaller church cannot field a team, we put them on our team or any team that has room," Clark says. "For example, on our seventh and eighth grade team we have a young man from Temple B'nai Israel and another young man from the Islamic Center who plays for one of our junior and senior team."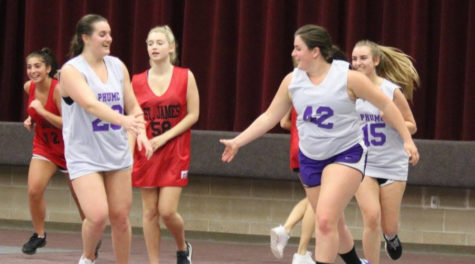 photo courtesy of Corie Hollingsworth
Church league has definitely grown in diversity throughout the years; however, there is still room for improvement.
"Church league represents a diverse group of people, but it could definitely be improved if the teams and the people running the league advertised it even more in schools," senior Mohammed Mumtaz said. "I also think that the opportunity to open it up to different faith groups is right around the corner."
As of now, church league remains a fun activity that many are drawn to and enjoy due to its laid-back atmosphere.
"My favorite part of church league would probably be how it is the polar opposite of competitive," junior Emma Jewel said. "We are faced with so much competition in school and in other parts of life so it's refreshing to have something to do that's productive but also relaxed."
Emma has played church league for four years and has become bonded with her team the Kittens. Through the growth of church league, her team has seen changes as well.
"The Kittens have been around since I was in eighth grade. The four years we've played together we've been recognized on a global level and have grown to be one of the best teams in the nation," Emma said.
Even students just starting their church league experience have already recognized its community atmosphere.
"My favorite part of church league is definitely being able to play with my closest friends. Everyone is always welcome even if you may not be good at basketball. I definitely plan to play church league in the future," freshman, Anthony Bean said.
If one ever enters the Pulaski Heights gym on any given week night one will see the love and community that has become the driving force of church league basketball. The heart of each player is left out on the linoleum court every time a game concludes. With this much support and momentum, church league has a long future ahead.