LRSD Listens… Sometimes
Students from five Little Rock School District high schools received identical emails in February inviting them to plan a Twitter town hall, dubbed "LRSD Listens," with superintendent Michael Poore. They were told the purpose of LRSD listens was to discuss violence in LRSD schools as a segment for KARK's campaign to end violence in Little Rock. The students attended a planning session with district coordinator Pamela Smith under the impression that this town hall meeting would be a collaborative effort between students and the superintendent. They were wrong.
"The phrase 'twitter town hall' was a bit misleading," student body president CJ Fowler said. "Twitter only provided comments to pre-made questions."
What student council officers Mohammad Mumtaz, Payton Williams and CJ Fowler soon discovered at Smith's meeting was that student collaboration was not in the picture.
"We were each assigned one questions at the prepping meeting," CJ said. "We found out that we would be discussing our question with Mr. Poore on the live stream."
Mohammad, Payton, and CJ, along with students from J.A. Fair, McClellan, Parkview and Hall, were not allowed to contribute their own questions for the town hall meeting.
"It was more or less an attempt to just publicly show that the LRSD claims to be listening to what concerns the students may have," senior class president Mohammad said.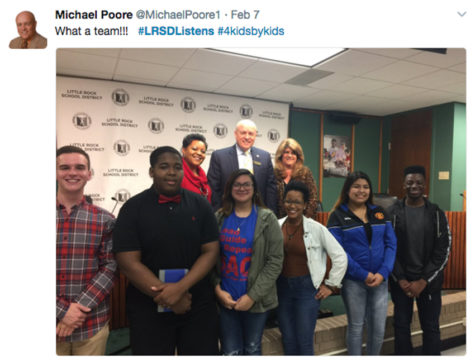 Twitter was used to live stream the question-and-answer session with Poore. It was also used to encourage members of the LRSD community to respond to the live stream on Twitter, using the hash tag #LRSDlistens.
"Mrs. Smith would read comments from Twitter between students answering questions with Mr. Poore," CJ said.
The questions discussed at the town hall meeting centered on violence in LRSD schools, how to end it, and what causes it. However, there was no discussion of recent decisions made by the superintendent concerning the district.
"I thought there should have been mention of the school closures during the town hall," CJ said. "When we talk about the need for community stability as a way to combat violence, we also need to talk about how closing down neighborhood schools, which are also community institutions, inherently destabilizes those who rely on them."
Overall, the meeting appeared to be run by the district and not the students.
"It honestly seemed as if they were trying to guide the discussion their way rather than allowing the students to really take the wheel as they had advertised," Mohammad said.