T.G.I.F.: Katy Perry's Witness Tour Dazzles Verizon Arena
With over-the-top props and wild costumes, contortionist-like performers and vibrant backup dancing, Katy Perry gave Little Rock a concert unlike any other. "Last Friday Night," Jan. 12, Perry brought her Witness tour to Little Rock at Verizon Arena.
Because this was her first time in Little Rock, Perry was sure to include all of her greatest hits from the ten years she's been in the spotlight: from "California Girls" to "Teenage Dream" to "Roar." Perry seemed to spice up her old songs with a more fast-paced, electronic style that mirrors the tone of her newest album. Every single song was accompanied by a visual masterpiece; flashing lights, glittery costumes, and themed sets with gigantic props mesmerized the audience.
The sets were a combination of futuristic and retro with lots of bold colors, stripes, and video game-esque graphics. The eye-shaped jumbo screen and band members clad in pastel pink added to the show that doubled as an art piece. The entire design of the show was manicured to perfection; the highly stylized production kept the crowd thoroughly engaged.
The crowd was generally comprised of families and females of all ages, and the overall vibe of the concert reflected that. Perry clearly knew her audience–twice during the show, she invited audience members on stage to speak with and engage with the props.
First, she called upon a small girl in the very back of the arena to come on stage to wish upon a shooting star, which dangled in front of Perry among other planetary props. With confidence, the little girl, whose name was Laine, wished for a horse. Perry's affection and authenticity shined as she spoke with the little girl, captivating the audience.
Later during the show, after performing her song "Swish Swish," Perry chose a dad from the audience to come on stage and attempt to shoot a three-foot-wide basketball into an enormous goal. Despite Perry's encouragement, "Darren the Dad" was unable to make a single basket.
Perry was effective in both giving the crowd a true popstar performance and showing a human side of Hollywood. It was truly a night to remember and a spectacular show.
About the Contributor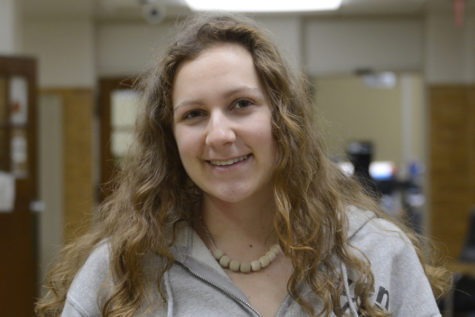 Sydney Gastman, Lifestyle Editor
Sydney Gastman is a senior and one of the lifestyle editors. She's vegan and really likes sweet potatoes. She also likes to run. Recycling is not a joke to her. Like one of Sydney's stories? Let her know! Email her at
[email protected]
.