Black History Program, Hid'N Fig-yours, Ready to Excite and Inspire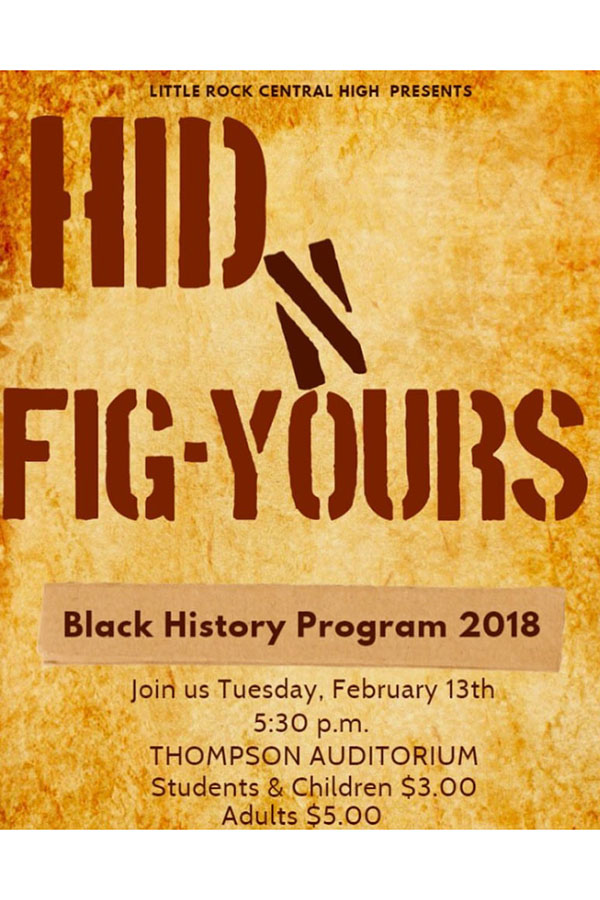 The annual Black History Month program is just around the corner, this week to be exact. Here's all you need to know about this informative, yet entertaining tradition and why the student body is excited to experience it.
The Black History Month program is essentially "a talent show for black people," performing senior, J.B. Britt explains. However, there is more to this showcase than meets the eye.
Director Kimberly Dade, is proud to announce that this year's program is titled "Hid'N Fig-yours" and composed of four parts: the past, recent past, present, and future. The "present" section will include a video of Central's own hidden figures, or powerful African Americans,  in the community and workers of twenty-five years or more.
"We never do the same thing twice. It's always new, relevant, and current…always a surprise," Dade said.
The poetry, choreography, and much more is all original. Everything in this program, down to the tech crew's involvement, is primarily student driven.
"The difference between this program compared to the previous ones is that a lot more, different things are being added than just editing the play itself…I'm also editing other things that will go into the play," video editor, senior, Zion Davis said.
Audiences are expected to be on the edge of their seats, impressed with every captivating detail.
"It's gotten better every year. I like that it [the program] focuses on actual students. Also, how it brings up actual things that are happening. Even though it is Black History Month, they give you information not only about African American history, but about things that are affecting black people right now," senior McKenzie Tucker said.
Every student and teacher involved in the production of this program values being a part of it not only because it expresses African American culture in an artistically, fun way, while informing the audience, but also because it helps other understand the culture.
"I think people should know that this program is an important essence of African Americans' lives to show some of the things and highlight some of the important people that you don't usually talk about, that have actually changed lives in the world," Zion said. "I'm looking forward to people actually looking and seeing the history behind black culture, and understanding why we have these black history months once a year. Maybe, and hopefully, they'll learn something that could be useful in life."
Don't miss the opportunity to experience this passionate, and long-anticipated performance on either "Invite Family & Friends Night" on Tuesday, February 13, at 5:30 to 7:30, or during school on Thursday, February 15.
About the Writer
Annalise Novicky, Staff Writer
Annalise Novicky is a senior and a staff writer. Annalise likes to play guitar and practice American Sign Language. Her favorite type of milkshake is peach. She's not great at math, but can make you laugh. Her Instagram is @ann_alise. She is excited to a part of the Tiger staff. Like one of Annalise's stories? Let her know! Email her at
[email protected]