James Humphrey Crosses Streets into Our Hearts
Hang on for a minute...we're trying to find some more stories you might like.
It's a rainy Monday morning. You're tired, Mr. Moore makes you repark your car three times, you have two tests today, and you're one tardy away from having to take your English final. You're already dreading this week. As you're running from the senior lot, you hear five words that dull all of the pain and misery: "Have a good day, baby."
These words have been said by none other than crossing guard James Humphrey, the patron saint of Central. Humphrey is highly revered among the student body, as his uplifting attitude and genuine care for children brightens everyones' mornings. We all love him, but how much do we really know about him? How many of us have thought to ask him how his day was? As I approached Humphrey for an interview, he seemed taken aback. "You're writing a story about who? Me?" he asked.
Humphrey began working as a crossing guard a year ago after retiring from his job as a janitor in a retirement home. As shown by his positive energy, he genuinely enjoys his job keeping children safe.
"I love to do this," Humphrey said, "and I love kids. I have four kids of my own."
His top priority as a crossing guard is protecting the students.
"I try to take care of the kids as much as possible," Humphrey said.
It has been made clear that Humphrey is a genuine man who enjoys his line of work, but the million dollar question still stands: How does he maintain an unwavering level of kindness and excitement?
"I just like the environment," Humphrey said. "All of the kids are so nice and respectful to me, so I treat them the same way."
James Humphrey's cheerful disposition is truly an inspiration to all of the students (and teachers) who wake up on a rainy Monday morning wondering how they're going to survive the week.

About the Writer
Mary Silzer, Features Editor
Mary Silzer is a senior and the features editor of The Tiger. She loves her dog Winston, "he's the best," Mary said. She is a smart blonde, party girl and a fun loving gal. Like one of Mary's stories? Let her know! Email her at
[email protected]
[caption id="attachment_1503" align="alignleft" width="448"]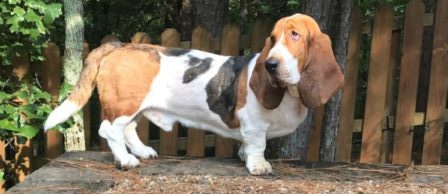 This is Mary's dog Winston.[/caption]