The Tiger's Stripes
Catholic High Unveils New, 'Improved' Mascot
Disclaimer: All information, people, and events in this article are a product of the author's imagination.
Last weekend, the Catholic High School for Boys, Central's long-time rival, disposed of its original mascot (The Rockets) and replaced the position with a new mascot: "The Cooler Tigers."
"I'm confident that this will give us the edge we need to beat Central. I mean, come on. Who do you think would win: "The Tigers," or "The Cooler Tigers?" said Jimmy Popeson, head football coach at Catholic High.
The response to the change has been mixed: many welcome their new mascot with open arms, while some Catholic students believe that their proud, Rocket-related heritage is being replaced.
"I was kinda sad. I remember when I was the mascot, Rocko the Rocket. At the games, I think my dancing really encouraged the team, even though Mount Saint Mary still beat us by a mile," Catholic High senior Robert Cambridge III said.
Other Catholic students were even more dissatisfied, and even jealous of the incoming students who would get the new mascot.
"It's not fair. I had to pretend that "Rockets" were a cool mascot for four long years, and now we get a good mascot?" Former Catholic student Jim Stephens-Stevens said. "Freshmen will never know the pain of having to come up with a good chant about rockets."
A crowd of almost ten Catholic students held a protest outside the main building before being scolded inside by a scowling teacher, who threatened them with "a mean paddlin' if they didn't get their butts in their seats."
At Central, news of the change travelled quickly and was met with anger and disgust. Senior Brad Kazwitch began a petition to rename the Central Tigers to "Tigers Who Are Way Better than Catholic High's Stupid Tigers" and received over one thousand signatures by the end of first lunch.
"C'mon, really, Catholic? I mean, what's next? You guys change your colors to black and gold?" Brad asked, in a video he filmed outside Catholic High on Monday.
At the time of this publication, Catholic High faculty members are working to change their color scheme from purple and yellow to "very, very dark purple that is indistinguishable from black and brassy, metallic yellow." Catholic High soccer coach Chad Ballman responded to the Central petition on Tuesday with irritation, and sent a letter to Central's faculty asking the students to reconsider their effort to one-up their new mascot.
"Look, kids," Ballman's email said. "We get that our mascot is super cool now, and you're jealous, but this "Tigers Who Are Way Better than Catholic High's Stupid Tigers" idea is just copying us! You should be ashamed."
The signers of the petition, undeterred by the email, continue to lobby for a new, improved Central mascot. The all-new "Tower of Tiger," a 50-story building covered in painted tiger stripes, was constructed by Central students on Monday. At the time of publication, the seniors have begun constructing "cat-apults" to hurl live tigers onto the Catholic campus.
About the Writer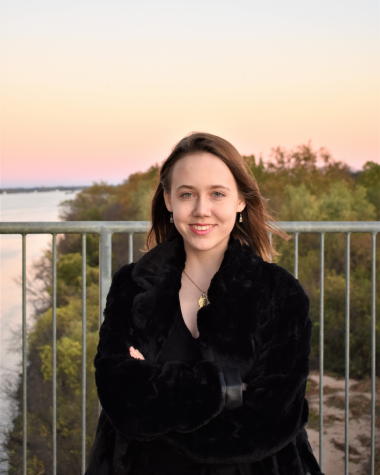 Brooke Elliott, Online Editor
My name is Brooke Elliott, and I am proud to serve as the Executive Online Editor of The Tiger! I am a passionate author and programmer who is working to improve our paper every day. I also work with the Central High Memory Project to preserve the history of minority groups in Arkansas. Like one of my stories? Let me know! Email me at
[email protected]
.