Baldwin's Visually Breathtaking Film Explores the Hardships of Black Love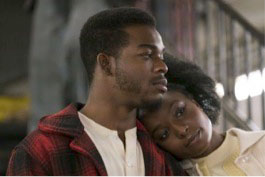 Hang on for a minute...we're trying to find some more stories you might like.
If Beale Street Could Talk, is a beautiful cinematic piece that explores the trials of loving while being Black. Set in the 1970s in Harlem, New York, Alonzo "Fonny" Hunt, played by Stephan James, and Clementine "Tish" Rivers, played by KiKi Layne, are a couple. Tish is 19 and Fonny is 22 and they've known each other since childhood and have planned on a future together; the couple eventually becomes pregnant, and they decide to get married. As they continue trying to build a life together, Fonny is accused of committing a crime he did not commit and is sentenced life in prison. Trish and her family work diligently to prove his innocence. The film is a rather warm and yet saddening affair.
One thing the film does flawlessly is establish intimacy between the characters and the audience. Throughout the film, the characters would speak directly at the camera towards the audience. These close-ups make you a part of the characters' love story. The warm colors used throughout the film are absolutely marvelous and create a picturesque visuals that are impossible not notice. On top of the beautiful close-ups and colors, the soundtrack is altogether downright breathtaking.
I would recommend anyone seeing this beautiful film based on the brilliant James Baldwin novel. Showing the trials of loving while young and Black and how to overcome it, very well done.

About the Writer
Jamaica Myton, Staff Writer
Junior Jamaica Myton was drawn to newspaper because of her passion for writing and her desire to voice her opinions. Jamaica is close with her extended family who live in the states, and has traveled to be with her family that lives in Jamaica. She has a love of Jamaican culture and food. Her hero is Marcus Garvey, who was a leader of the Pan-Africanism mass movement in both the United States and Jamaica. In the future, she hopes to be happy and successful in whatever line of work she does, but if...