Euphoria Redefines Fashion
Basic beauty is dead. The days of minimalistic makeup are behind us, all thanks to HBO's latest hit series Euphoria, where make-up artist Donni Davy (@donni.davy on Instagram) has normalized these intense makeup looks. 
Of course, Davy is not the first to create looks like this. Make-up artist Pat McGrath has built her career on her ability to create works of art on someone's face. McGrath has created iconic looks for Viktor & Rolf, Alexander McQueen, Christian Dior, and others during fashion week in the past years.
 The birth of the Euphoria make-up trend has roots in stage make-up as well. Artists such as David Bowie and Lady Gaga use intense make-up looks to make a statement as well as to be seen from the stage. While Davy and the Euphoria crew don't claim to have invented the new wave of makeup trends, they still are credited by sites such as Vogue, Paper Magazine, and Seventeen Magazine with making it popular. 
The makeup looks in Euphoria have been extremely well-received, and even those who don't watch the show are under the influence. The shows target audience ranges from ages 16-25 and they have been challenging the ideas of natural makeup looks, including seniors Sarah Jackson and Annie Rankin. Both have jumped on the bedazzled eye trend inspired by Euphoria by adding stick on jewels to decorate their faces. From bright blue hues to diamonds decorating eyelids, Euphoria has challenged normal makeup standards and created a new pop culture wave.
About the Contributor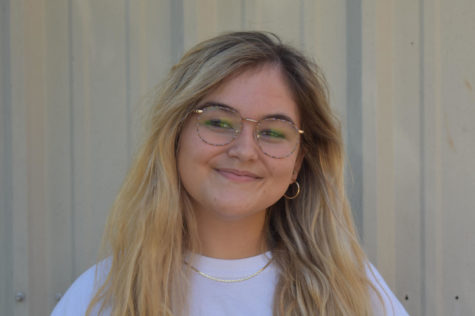 Sarah Gornatti, School News Editor
I'm Sarah, and my closet consists of primarily oversized sweatshirts. I love animals of all kinds, especially my overweight dog named Buddy. Don't be fooled! My blonde hair is artificial, and sometimes it suddenly becomes blue, pink or purple. My official title is School News Editor, but I work behind the scenes as the Grand Inquisitor. Like one of my stories? Let me know! Email me at [email protected].