Hurricane Laura Whirls Through Arkansas
Hurricane Laura crossed Arkansas borders as a tropical storm, leaving over 38,000 Arkansans without power. The damage was not nearly as critical as expected in Pulaski County, with most debris from the storm consisting of fallen trees, limbs, and leaves. However, the National Weather Services confirmed the touch down of several tornadoes, which caused damage to the homes of rural residents. After the storm has passed, heat waves will strike across Arkansas over the next few days.  
The school closed early on Thursday, at 2:30pm in order to ensure the safety of transportation for the students that were doing their classes in person. The heaviest rain was expected to be around 3:30 p.m. Third and fourth block classes were cut short to have the early dismissal. 
The main cause of the loss of power in Arkansas was down trees hitting power lines. Southern Arkansas received much more rainfall and harsh winds compared to the northern half of the state. Many students were afraid that they would fail to complete their assignments due to power outages across the state, including senior Arin Cartelet.
"I got caught up in the middle of the storm," Cartelet said. "I was without power for two days, and feared that I wouldn't be able to get my schoolwork done in time. It was frustrating not wanting to leave the safety of my house, but risking burning up in it."
According to Dan Koch, meteorologist from the National Weather Service in North Little Rock, Ravenden AR, had the highest amount of rainfall with 5.31 inches. Little Rock had 3.1 inches, and North Little Rock reported 4.37 inches. Junior Penn Hicks helped his father take down their porch due to the increased rainfall, which made the structure hazardous.
"The high amount of rain recently has really put a stop to outdoor activities for me, as I've been hiking more and more around my neighborhood," Hicks said. "It's also stopping my family from doing a few of the things we had planned for the fall in the last days of summer. We've recently had to take down our porch near-completely because of the heavy rainfall to avoid damaging the house."
There was not much major damage reported to news channels, despite the fact that  those closer to the Louisiana border were prepared for a much more dangerous storm. Coming in from the Gulf of Mexico, Louisiana was affected much more by Hurricane Laura, specifically Beaumont and Lake Charles.  Hurricane Laura was classified as a Category 4 hurricane with winds up to 150 mph, one of the most powerful storms to hit the US. In Louisiana, multiple people were reported killed, most from fallen tree accidents. There were 1.5 million people under evacuation orders there. 
About the Contributor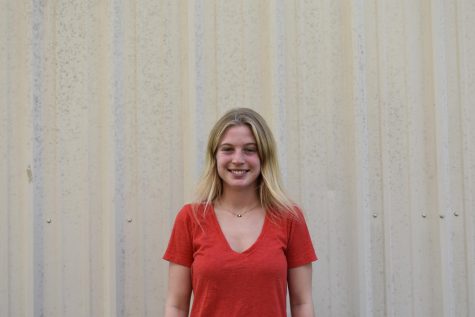 Ellyson Bradford, Print Editor
Hi! I am a senior and this is my third year on staff. I am the Co-Editor of our print publication. I play soccer for Central and in my free time I like to spend time outside, but not when it's cold. I am very open to suggestions, so feel free to contact me! Like one of my stories? Let me know!