Not Your Typical Horse Girl
Most people think of horses as majestic, gallant, and powerful animals. Sophomore Sydney Borne, however, sees them as partners and friends.
Borne has loved and admired horses for her entire life, but has only been riding them for about two years. The only thing on her birthday wishlist was a lesson in which she would begin to learn to ride. 
Borne credits her friend Teague as the person who made her begin to think seriously about learning to ride. Once Teague began leasing her first horse, "she would let me go out to the barn with her to help take care of him," Borne said. While Teague is the one who got Borne interested in learning to ride, the person Borne really looks up to is Canadian show jumper Ian Millar. Millar is a decorated equestrian who has competed in the Olympics ten times. She looks up to Millar because "he treats his horses extremely well and is an amazing rider."  Borne feels that it is important  to have someone to look up to, because it spurs her motivation to improve and keep learning.
Borne's favorite parts of riding and working with horses are the bonds with the animals that are created over time.
"In every other sport, your equipment doesn't have a brain, and there's no bonding with it, but riding is different," Borne said. "not only do you have to learn to ride the horse correctly, you also have to learn to take care of them and listen to them." With her horse, Booster Rocket, she has to be careful to interpret his body language and actions to make sure he's willing to be the best partner he can. 
Working with and riding horses has made Borne more patient. With horses, it is important to "learn to control and monitor your emotions, because horses feed off of how you feel." Horses not only notice the riders emotions, but they are physically and mentally affected by them. "It is super important to be able to recognize if you are angry or you are sad because the horse will notice and then can't perform to the best of their abilities. With horses, it is absolutely necessary to keep your emotions in check," Borne said.
About the Contributor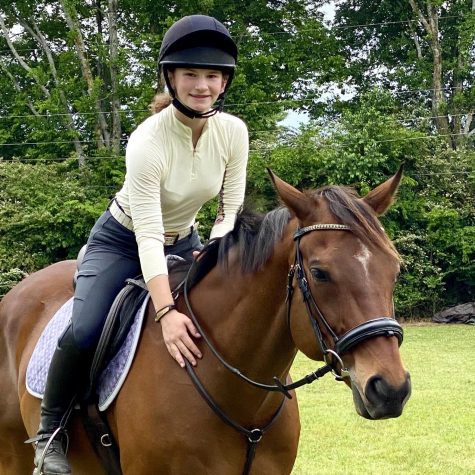 Claire Porter, Features Editor
Yo! I'm Claire, co-editor of the (absolutely killer) Features section. When I'm not working on the newspaper, doing school work, hanging with friends, or writing letters to my penpals, you can pretty much guarantee that I'm either riding or spending time with my bay thoroughbred, Sunny Cide Bay.