Christian Caroll Creates Culinary Marvels
As soon as Senior Christian Carroll's face appeared on my computer screen, I could see that he was working on a batch of macarons. I asked if that was his life now, making macarons in every spare moment of time. 
"Not always, but most days I'm in here whipping up some eggs and measuring out almond powder," he laughed and replied.
Summertime quarantine had been boring Carroll, and while trying to find something to take up his time, he decided to start selling macarons. Now, Carroll can be found in his kitchen day and night fulfilling orders. I worried that his lack of free time might be a little overwhelming, but he assured me the satisfaction of pulling delicious macarons out of the oven is worth the stress.
"It's so enjoyable going out to people's cars and going 'here! I made this for you,' and seeing them get excited," Carroll said. 
That's not to say the baking is without its challenges. Carroll feels as if he's already at a disadvantage, because he's working out of his home instead of a tidy little shop, and as a result he has to get the presentation of his products just right.
"It can be difficult sometimes, especially when it's three a.m. and I have a bad batch, so then I have to decide if I should stay up and redo them or make the customer wait another day. I don't want to sell anyone a bad product, because that reflects badly on me," Carroll said.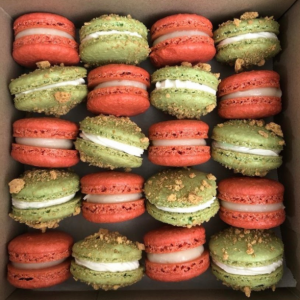 As we talked, Carroll frosted a fresh batch of lavender cookies – he showed me his new star shaped pipette tip and explained how it would make the frosting much prettier and more elegant. I could tell that presentation was very important to him as he held up a dainty, lilac colored cookie to the camera.
"See the little feet? They're the crunchy bits around the edge, those have to be perfect," Carroll said. "And you want the top to be smooth, no nipple bumps."
We laughed for a minute, then Carroll explained more about the particulars of macaron making.
"The cookies are very temperamental; they don't like when a foreign ingredient is introduced. The recipe is simple, but it's a special skill that not everyone has," Carroll said.
Carroll learned how to make macarons during his freshman year. He'd been wanting to try them for a while, but couldn't find them anywhere for a reasonable price. After a quick Youtube search, he found a girl who made the process look perfectly simple, so he got to work. 
It was not a simple process. Carroll tried over and over again to get the cookies just right, but it took around seven or eight attempts before they came out how he wanted.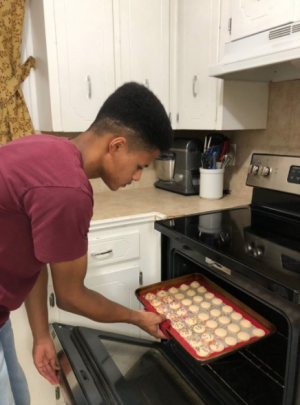 "A few times I over baked them and they came out hollow. You'd bite down and the whole thing would just collapse in your mouth," Carroll explained. "Other times they would crack, and no one on this good earth sells cracked macarons."
I was very impressed at his perseverance, and told him that if it had been me, I probably would've given up after so much difficulty.
"All the trial and error was definitely a humbling experience," he replied. "But hundreds of dollars and many failures later, I finally succeeded." 
And succeed he did. Carroll's business is booming, and he has no plans of slowing down. Although the cookie batter is temperamental, Carroll has experimented a lot with flavor through the frosting. So far, no one has requested a flavor that he could not do. He also mentioned the possibility of special Halloween macarons, which was thrilling to me.
"The second October 1 hits I'm gonna test my luck making black and orange cookies," Carroll said. 
The support of Carroll's friends has been crucial to this process, and as our interview was coming to a close he expressed much gratitude.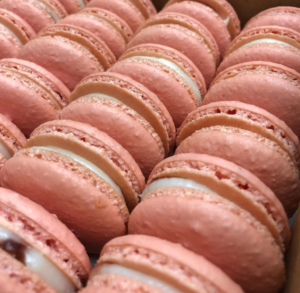 "The response has been overwhelmingly positive. It's so much easier to do this when people support you," Carroll said.
I may be biased, but I absolutely recommend buying a batch of macarons. You can check out Carroll's work @sucre_par_c on Instagram and direct message him with a flavor.
About the Writer
Mary Ruth Taylor, Opinion Editor
Hi friends, I'm Mary Ruth! I'm a senior and this year I am an opinion editor for The Tiger. I'm really excited to be writing about the voices at Central, so if you have a perspective that needs to be shared, please contact me. Outside of newspaper and school, you can probably find me rereading one of my favorite books, watching Criminal Minds, or getting mozzarella sticks from Sonic.