First Cross-Country Meet During COVID-19
The first cross country meet of the season started off strong, even though COVID-19 has caused multiple changes and has required many new restrictions to be put in place for the season.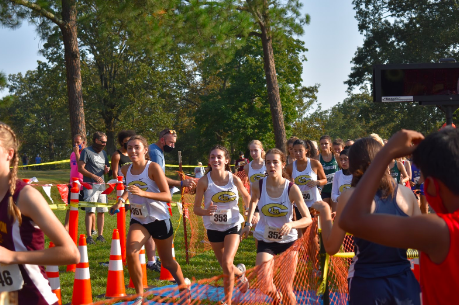 "I think the girls' and boys' cross country teams had a great first meet. We came, worked hard over the summer, and gave it our all," varsity captain senior MacKenzie Bernhardt said.
Many of the changes reconfigured the order in which the runners started; the meet required the top 20 runners to run first and the remainder of the
teams were placed alphabetically to follow them, with three runners from each team going every two seconds.The boys started at eight a.m. and the girls started at 8:45 a.m. There was no food at the meet, but bottled water and cartons of chocolate milk were handed out at the finish line. Electronic chips were used to keep track of runners' times, and are reusable and placed on bibs as opposed to the usual ones embedded in shoe laces. Masks were mandatory for bystanders and runners at all times, except for the starting lines and when running. 
"It was very different this year seeing everyone in masks, but it was definitely a good safety measure. The start line was a little weird and I think everyone was too close together without their masks; but I wore mine until it was time to go," captain junior Nadia Denman said. 
Despite the new restrictions and difficulties, the meet went well according to the runners.
"This cross country meet, personally for me, was mentally and physically a good race! A year ago, I didn't even know how to pace myself or truly 'run' and definitely would have never seen myself as a runner. As I learned how to pace myself, lengthen my strides and run a lot more on the team, this meet felt really good to run," Caffey said. "Despite the annoying hills, I was able to run the whole time, and I feel more confident and [felt] like I've grown in the last year."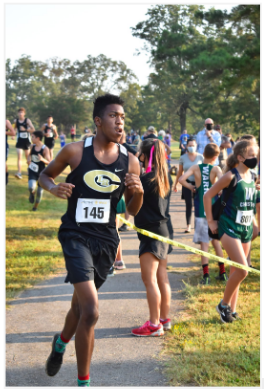 Denman, who was one of the top three female runners of the meet, emphasized the team's success and her own personal growth as well.
"The meet went well for me; my time wasn't quite what I was expecting, but I was happy with my place. That course was tough last year and I thought it was tough this year, but I just tried to push through and finish," Denman said. "Everyone on our team did really well for the first meet and I'm excited for the rest of the season,"
About the Contributors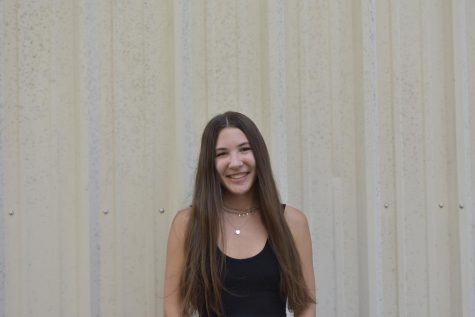 Sydney Polite, Projects Manager
Hey! I'm a senior and this is my second year on staff. I️ love writing and being the Projects Manager for The Tiger, outside of that, I️ love traveling, shopping, and hanging out with my friends. You'll probably catch me at Chipotle or at the gym because they're my favorite places in the world. I️ hope you love my stories!!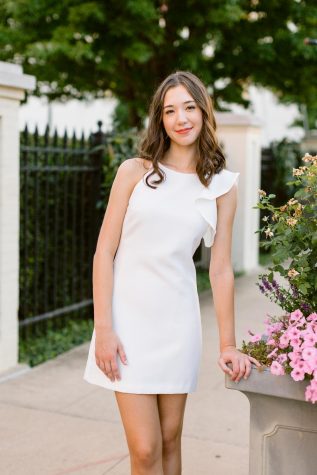 Anna Yates, Staff Writer
Hi! I'm Anna Yates. I'm a senior and first year staffer this year. I'm also co-Student Body President and dance outside of school. I love reading, baking, good music, watching movies, and hanging out with friends. I joined newspaper because I love writing and photography as a form of expression. I'll be covering politics and taking photos this year, and I love that you read my story! If you want to talk to me about it, let me know at 
[email protected]
.