The New LUSH Experience
LUSH Cosmetics opens for in-person shopping with new COVID-19 regulations
Almost every single LUSH store is identical: minimalistic with black walls, light wood shelves, white-clawed sinks, and gray concrete floors. All of this accentuates the bright, popping colors of their exotic-smelling products. The walls are stacked high with soaps, face masks, perfumes, hair care items, and more. The middle of the store is where the brilliantly colored bath bombs, the products that LUSH is most known for, are typically displayed.  
LUSH, a cosmetics company started in 1995, is a retail store one usually finds in large, urban areas with high-density populations. But in July, Little Rock welcomed its own LUSH in the Promenade on Chenal Parkway. Until recently, customers could only purchase items through curbside pickup.
For less than a month now, LUSH has been open for in-person shopping. Before being allowed to shop, an employee describes the rules, which include not taking off one's mask, and that the employees will stay six feet away. Then, they lead you to a sink, where you wash your hands. After that, you are allowed to roam the store. 
A fair warning before visiting; the employees will talk your ear off about new and old products alike if you ask for any recommendations. For most though, part of the fun of visiting a LUSH store in-person is being able to peruse the wide variety of items with a bubbly salesperson. They give demonstrations of items customers show interest in, so it's not uncommon for an employee to insist on letting you try out items in-store. But of course, due to new restrictions, this isn't allowed. 
Despite this, there is still lots of lecturing and any demonstrations are done on the employees' own person. Notably fewer items line the shelves in-store than is usual, but the experience is mainly the same. As an avid LUSH fan, visiting the store was still an enjoyable experience.

Even in the time of the coronavirus, I'd give LUSH a 4 out of 5. The products are very well-made, smell amazing, the scrubs are always very effective, and the lotions make you feel heavenly. The only downside is that the prices are high for most products. The products are mostly handmade with natural ingredients; additionally, the company uses minimal packaging, encourages recycling, is cruelty-free, and also provides an abundance of vegan items. The prices are understandable, but my bank account is usually upset with me when I leave the store.
Product Recommendations
The Mask Of Magnaminty ($14.25)- This mask is great for exfoliating, and also makes your face feel minty and fresh for a good few hours. It's one of their most popular, and for good reason. It isn't harsh on the skin and smells great. 

Angels On Bare Skin ($16.95)- Both an exfoliator and face wash, this product leaves the skin feeling baby soft. It has a learning curve in terms of how to use it, as using too much water will dilute the effect, but it's quite worth it. It also doesn't have much of a smell, which is nice to have in a face wash.

Dragon's Egg ($7.45)- An explosion of colors, smells, and balms, this bath bomb is a great addition to a morning bath. It has a strong citrus scent, and the warm orange that seeps from the inside is a nice surprise. Fair warning, it also has tiny paper pieces in it, which are a pain to wash out of the tub.

Sleepy Body Lotio

n ($11.95)-  Any Sleepy or Twilight LUSH product is my go-to, mainly because of my love of lavender scents, but the body lotion is by far my favorite. It smells great all day and keeps the body smooth.
About the Contributor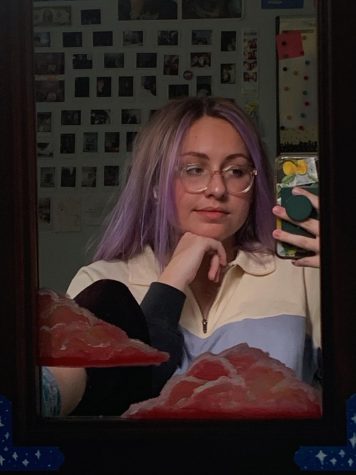 Anna Spollen, Entertainment Editor
Bonjour :) I'm Anna, and I'm the Entertainment Editor for The Tiger! In my
free time, I enjoy swimming, hanging out with friends, and listening to music. I like cats, fall,
and watching sunsets. I don't like bugs or math. I can't wait for the fun new things
we'll get to do this year!