New AP Exam Guidelines Change Schedule Structure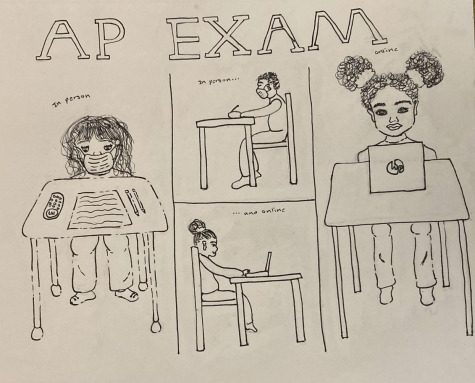 College Board announced that the AP Exam schedule for this year will be adjusted to include both an in-person and virtual format. The exams will be given in full, a contrast from last year. Three sessions of AP Exams will be offered. The first session will be fully in-person; the second, a mix of in-person and virtual exams; and the third, completely virtual. The sessions will be given throughout the month of May into the first few weeks of June. School districts will decide which sessions they make available to students, and COVID-19 protocols will be followed for all in-person exams (College Board). 
Another change from last year involves weighted credit. LRSD waived the requirement of taking the exam to get weighted credit last year, but all students must take the exam to get weighted credit this school year. 
The quick spread of COVID-19 last year prompted the College Board to switch to online exams for all subjects. Junior Nadia Denman took the AP World History exam last May.
"Going into the exam, I felt pretty good. I still felt nervous, but I thought it went well," Denman said.
The altered format of the exams last year featured all free responses, without any multiple choice questions.
"Cutting out all of the multiple choice and just having an essay was a good thing and a bad thing, because I'm not very good at multiple choice. I'm better at essays so I felt pretty glad about that," Denman said. 
Senior Samuel Lu took multiple exams at the end of last year.
"On the first one, I was definitely a little nervous and not sure what to expect, but I didn't have any issues," Lu said. "I liked that they were short."
Lu and Denman, like other students, had already planned their class schedule for the next school year before the AP exam formats were changed. 
"I wasn't really expecting to take online AP exams again. Clearly I set my expectations too high. I wouldn't say that it impacted my feelings about this year very much. I feel more comfortable because I know what to expect," Lu said.
"I don't really think it changed my perception of what any of my AP classes junior year would be like. I figured they'd probably be online again," Denman said.
For those taking their first AP exams this spring, Lu recommends that sophomores should, "know the format of the test. If you know what you're expecting, it's a lot less scary."
The AP Exam update can be found here: https://apcentral.collegeboard.org/about-ap-2021/updates/about-2021-exam-schedule
Schedule can be found here: https://apcentral.collegeboard.org/exam-administration-ordering-scores/exam-dates
About the Contributors
Anna Yates, Staff Writer
Hi! I'm Anna Yates. I'm a senior and first year staffer this year. I'm also co-Student Body President and dance outside of school. I love reading, baking, good music, watching movies, and hanging out with friends. I joined newspaper because I love writing and photography as a form of expression. I'll be covering politics and taking photos this year, and I love that you read my story! If you want to talk to me about it, let me know at 
[email protected]
.
Colm Simmons, Opinion Editor
Yo! Welcome to my domain, the opinions section to the specific. This is my fourth year on staff and second year as a section editor. I have the most fun when I'm writing about what's on my mind. 
Kiya Daniels, Staff Writer
Hello, I'm Kiya Daniels, AKA Sam, and I am a junior. This is my first year working for the Tiger News and I am thrilled to be covering issues on campus. I like to draw, paint, and design things. I watch a lot of cartoons in my free time but my all time favorite is Steven Universe. Like one of my stories or my art? Let me know! Email me at
[email protected]