Review: WandaVision
Beginning in mid-January, Marvel released weekly episodes of the new series WandaVision, which is available on DisneyPlus with a subscription. For those who aren't avid fans of the Marvel Cinematic Universe, the first few episodes of nine can be confusing and deemed pointless. However, for those who are deep into the universe, every second is valuable. The plot begins to connect episode-by-episode, and viewers eventually learn how it relates to the larger storyline by the fourth. 
This series takes place after the events of Avengers: Endgame, which was released in theaters in 2019. It begins with the superheroes Wanda Maximoff (Elizabeth Olsen) and Vision (Paul Bettany) moving to a new town called Westview. However, the two have no idea how they got there or what their life was like before. They do their best to mask their superpowers and fit in with the rest of the seemingly normal town.
The big twist, however, is that each episode mocks a sitcom from a different decade, beginning with references to the Dick Van Dyke Show and I Love Lucy in the 50s. The second episode moves the audience through the 60s, imitating the style of Bewitched and I Dream of Jeannie. This pattern continues as we gain insight into the world outside of Westview. Without delving into the future, the last few episodes remain in the 2010s and 2020. This is where the action really picks up and greater reflects the traditional style of Marvel films. 
Viewers learn more about Wanda's upbringing and true identity as circumstances have her reflect on the town of Westview and what her role is in the community. This is likely the most important and rewarding part of the series for serious Marvel connoisseurs. 
The ending is also undoubtedly sad, as it delves into grief and coping with loss. The fun, lighthearted tone of the beginning of the series turns into a sorrowful lesson. Meanwhile, some may be unimpressed by the abrupt conclusion, because the final events already seemed unavoidable by the last few episodes. Additionally, the eight-minute credits reel can be a  bummer for those expecting full 30-50 minute episodes. Nonetheless, WandaVision demonstrated a range of wit, desolation, playfulness, vulnerability, and action within the nine episodes.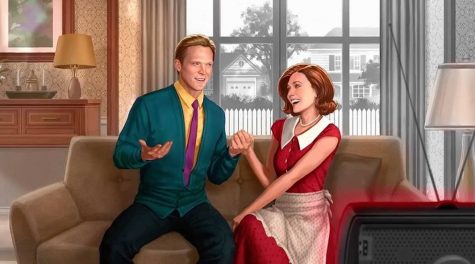 About the Contributor
Lilah Goldman, Entertainment Editor
Howdy! I'm Lilah, the Entertainment Co-Editor this year! I spend a lot of my free time playing with my many foster cats and doing all kinds of crafts. I also love talking about movies, music, and pop culture so feel free to reach out to me about all your favorites!