Junior Kenny Boykins Excels in Military Preparation Program
During the course selection process for his freshman year, junior Kenny Boykins wanted to pick classes that would help him enter a military career after graduation. After learning about the AFJROTC program, Boykins decided to sign up.
"I was planning on a career in the military after high school; why not go in with a rank?" Boykins said. 
The Air Force Junior Reserve Officer Training Corps has benefits for future members of the armed forces. "It gives you a jump start when you join the military," Boykins said. 
For example, students who want to continue their military education can receive special consideration for some Air Force ROTC scholarships. Some of the most appealing benefits are financial, as students who complete three years in AFJROTC are eligible to enter the Air Force two pay grades above others who enlist. 
Students also learn valuable life lessons while in the program. "They taught me respect and how to carry myself… it teaches me how to hang with the right crowd," Boykins said.
The program teaches self respect and self confidence. "Our whole mission is to develop people into the best person they can be," Boykins said, "In the halls, all the teachers are watching you in your uniforms. If you are caught doing anything in your uniforms, you could get kicked out. Teachers see us in our uniforms and think 'he knows how to carry himself." 
The Air Force Junior Reserve Officer Training Corps may seem scary with its uniforms and discipline, but Boykins said it is quite enjoyable. "Everybody thinks it's going to be boring because it's the military, but it is actually very fun," Boykins said, "On Fridays, we go and do stuff like play football or soccer. It's physical exercise with motivation. You want to try your best to be the best you can be, so you can win."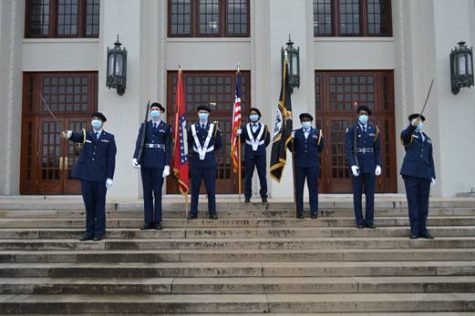 About the Contributor
Claire Porter, Features Editor
Yo! I'm Claire, co-editor of the (absolutely killer) Features section. When I'm not working on the newspaper, doing school work, hanging with friends, or writing letters to my penpals, you can pretty much guarantee that I'm either riding or spending time with my bay thoroughbred, Sunny Cide Bay.