New Coach Shows Promise
The gym is full of undeniable electricity. The players on the court stand at the ready for the opposing team's serve. Sophomore libero Maria Schuller digs the ball with ease. The ball floats and lands neatly into the hands of senior setter Olivia Johnson who sends the ball off in the air to senior outside Mackenzie Whisnant. She snaps her hand for a clean cut shot where no one is covering. The ball lands and the gym erupts with applause and cheer, the volleyball team has won yet another game.
Last year the volleyball team won two of thirteen games. This season the team has already won five matches. What's the difference? Coach Markie Alberius.
Coach Alberius attended the University of Arkansas in Jonesboro where she played volleyball as a libero for the Red Wolves. After four years of college volleyball, Alberius stayed and helped coach defensive players at the university. Next, she coached eight years of club volleyball in Arkansas. In her first year to coach high school volleyball Alberius' eyes are on the prize.
"I want a state championship," Alberius said.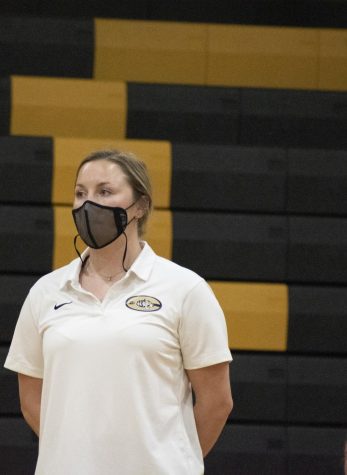 Coach Alberius was quick to make changes. In the beginning of the season, she wrote a list of physical and mental conditions the young women needed to facilitate a successful season. 
She asked the players to come on the court with a positive attitude, a good work ethic, and the tenacity to win. 
"You either agree to these terms or you don't want to play,"Alberius said.
Each player signed the agreement and began the upcoming season with a fresh start. Alberius credits her upperclassmen for helping incorporate her new ideas and expectations. In the beginning of the season, including the agreement, the team picked a word to represent how they wanted the season to go. 
"They chose a new word and it was reset," Alberius said.
They did in fact reset. The Lady Tigers started the season strong by beating teams that they hadn't beaten in years. Sept. 2, the team beat North Little Rock's varsity team in three sets. The following week, Sept. 9, the team also beat Bryant in three sets. Players began to recognize this change as a positive one. 
"It was the happiest moment I've had playing volleyball, it just proves that all the hard work and time the team and I have put into practice has been paying off," senior Sydney Whisnant said. "To see how we are improving and building is amazing. Especially since it seems that no one is expecting us to do good. It feels good to prove these teams wrong by winning."
With games against Mount St. Mary and another match against Bryant, Coach Alberius remains optimistic and confident in her team's skills.
"I have high expectations, we just have to work hard," Alberius said.