Billie Eilish Happier Than Ever?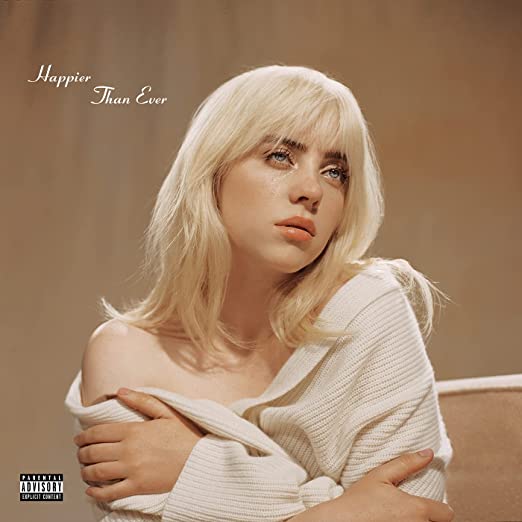 Billie Eilish's second studio album, "Happier Than Ever," was released over the summer and shows the care an artist can put into their work. Eilish adds interest to her songs via effects. These effects are layered vocals, weird noises, and instruments ranging from piano to drum machines. They combine to complement her lyrics about taking and maintaining innocence and addressing media criticism.
Eilish uses a double vocal style to enhance and connect the songs. In this style, she layers the vocal lines with a medium and higher pitch voice. This creates an eerie mood that catches the listener's ear.
Continuing to draw in the listener, Eilish adds dissonant sounds to some songs. "I didn't change my number" opens with pig squeals, and "NDA" opens with electric guitar feedback. These odd musical choices work in the album's favor by making the listener wonder where the album is headed. 
Balancing out the strange noises, Eilish switches between organic instruments like an acoustic guitar to digital instruments like a synth. This transition between the songs creates contrast throughout the album. The first track of the album, "Getting Older," is mellow and minimalistic with fewer electronic parts. This changes with "I didn't change my number," which uses synths, drum machines, and distorted vocals. This recurs throughout the album with organic instruments shifting to digital instruments. Some songs like "Happier Than Ever" switch midway through which highlights the differences between the two styles of instruments.
Another example of contrast is between the back-to-back songs "Oxytocin" and "Goldwings." "Oxytocin" is an electronic song that talks about "things God doesn't approve of."  Creating an aggressive tone, Eilish has lyrics like "I wanna make you yell." To add to the anger, Eilish uses an agitating synth line and distorted vocals. All of this is done to highlight the theme of taking innocence by wanting "to do bad things to you."
"Goldwings" follows it up with a choir intro and contains more religious imagery and phrases like, "messenger of mighty gods." The song has a more laid-back tone than "Oxytocin" when focusing on Eilish's vocals. She sings angelically at the beginning and then she transitions to be simpler and mellow. This tone complements the song's theme of preserving innocence by "keep[ing] your head down" from people that want to "tear apart" someone.
Exploring another theme, Eilish voices her inner struggle in a monologue format. In "Not My Responsibility," Eilish discusses the media pressure she experiences to look and act a certain way. "Overheated" builds upon the themes of its predecessor and vents her frustration in a typical song. 
The album "Happier Than Ever" explores topics of innocence and public opinion on Eilish through her lyrics. The vocals are complemented by the use of instruments ranging from pianos, drum machines, and even pig squeals. These two elements combine to show the effort that Eilish put into all 56 minutes. This pays off into an enjoyable album to put on repeat.
About the Contributor
Edward Pope, Managing Editor
Edward Pope, a junior, is serving his second year on staff. He likes writing personality profiles and discovered his love for photography towards the end of last year. Outside of being excited to take a more active role in Tiger News as managing editor, he likes rowing, playing the guitar, video games, and listening to anything rock and roll.