Taylor Swift Recreates Fifth Studio Album, Red, Expanding Extensive Discography With Acclaimed Vault Tracks
Taylor Swift is one of the select pop artists that many in our generation can say they've grown up with, especially young girls. When her career took off in 2006 with her first single, "Tim McGraw," Swift was just fourteen and already signed to Big Machine Records by Scott Borchetta. She dominated the country genre until her fifth studio album, 1989, when she had fully recategorized herself as a pop artist. After numerous self-reinventions, with fans recognizing each album as an era, Swift's discography includes nine full studio albums. 
Swift's name has become prevalent again in pop culture because she has begun to release the re-recordings of her first six albums, now with the full rights to own and profit from her work. When Scott Borchetta originally discovered Swift under Big Machine Records, she did not own the masters to her own work. Until she broke away from her record label after her sixth album in 2017, she did not legally own the files of her music which were then reproduced for CDs and vinyl records. When Swift finally severed ties with the record label, Borchetta sold the masters to Scooter Braun, who then sold them for an estimated $300 million. Swift was not aware of the transaction. Fortunately for Swift, she does own the lyrics and music to her songs but not the original album recordings. She was able to begin re-recording her early works in fall 2020, five years after their album release dates.
Now, Swift is active as ever in the media, constantly spoiling fans with hints and teasers for what's to come. Many might have expected the re-recordings to be released in the original order of production, but Swift began with Fearless, her second album. 
Fearless became available to stream April 9. Along with the original songs on the album, Swift released songs from the vault; unreleased songs that were written during the album's original era but didn't make the final cut. This surprised many fans and helped sell the album because it gave her audience something new to look forward to. The re-recordings also demonstrated Swift's growth in vocal skill and maturity since her teenage years.
When Red (Taylor's Version) came out Nov. 12, the feedback from fans was overwhelmingly positive. One song in particular, "All Too Well," was originally written as a 10-minute song but it was reduced to five in order to fit on an album. Over the years, it became a fan favorite which made Swift perform the short version at every concert. When the release date and tracklist of Red (Taylor's Version) was announced, both lengths of "All Too Well" were part of the record as separate songs. The 10-minute version boasted more advanced production that was less acoustic and gradually built upon itself throughout the song. 
The new lyrics also revealed that the relationship Swift endured was more manipulative than fans understood from the shortened version. For example, "I'm a soldier who's returning half her weight / And did the twin flame bruise paint you blue? Just between us, did the love affair maim you, too?" This line is particularly revealing because it shows the extent to how taxing the relationship was on Swift. The shortened version doesn't have this detail so listeners miss out on the specificities that make the song so outstanding and emotional.
The 10-minute version was released with a short film starring Dylan O'Brien and Sadie Sink. Many viewers may be disturbed by the 10 year age difference of the actors. However, this is a crucial piece of the story Swift tells because it mimics the ages of her and her ex during their relationship. The short film also captures both the exciting and fulfilling moments of Swift's relationship as well as some of the devastating and heart-shattering ones. Between the verses, there's one continuous and fully improvised scene where the music stops and the actors capture a moment of romantic ruin where Sink's character is emotionally manipulated by O'Brien's character. Every ounce of the audience's discomfort is meant to drive the narrative, which it does so effectively.
Aside from "All Too Well," the other vault tracks proved themselves to be more than satisfactory. "Nothing New (Taylor's Version) (ft. Phoebe Bridgers)" was amazing in particular because of the heart-wrenching lyrics that evoke nostalgia and a feeling of lostness as one gets older. The line, "Lord, what will become of me once I've lost my novelty?" is relatable to many young girls, whether in the entertainment industry or not. Phoebe Bridgers' feature is also an incredibly smart decision on Swift's part. Bridgers is known to create sadder, more melancholic music so she suits the lyrics and melodies perfectly. The two artists also have some audience overlap, which easily makes it another fan favorite. 
Other vault tracks are more danceable and fun. "I Bet You Think About Me (Taylor's Version) (ft. Keith Urban) and "Message In A Bottle (Taylor's Version)" signify that the Red era was a pivotal transition period between country and pop for Swift. "I Bet You Think About Me" is a fun country tune where one can't help but sway to the melody and grin in vain as you sing along to the lyrics of the title. Meanwhile, "Message In A Bottle" is a more youthful pop song that is perfect for a dance party but perhaps sounds less mature.
The original songs on Red are also just as amazing on the re-recorded version. When wearing headphones, the music is much more satisfying because it is better mastered to mimic a surround-sound effect. For avid fans, it's also rewarding to hear even the slightest differences in Swift's pronunciation and pitch. Not to mention, listening to the album brings many listeners back to 2013 where one can imagine themselves or Swift at a younger age. That being said, people who have grown up with Swift are bound to feel nostalgic and sentimental with each re-release to come.
About the Contributor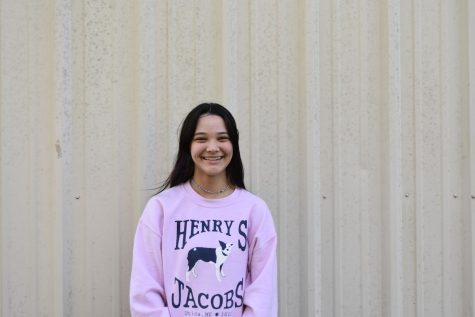 Lilah Goldman, Entertainment Editor
Howdy! I'm Lilah, the Entertainment Co-Editor this year! I spend a lot of my free time playing with my many foster cats and doing all kinds of crafts. I also love talking about movies, music, and pop culture so feel free to reach out to me about all your favorites!