Harry Styles' Unique Style Inspires Fan's Self-Expression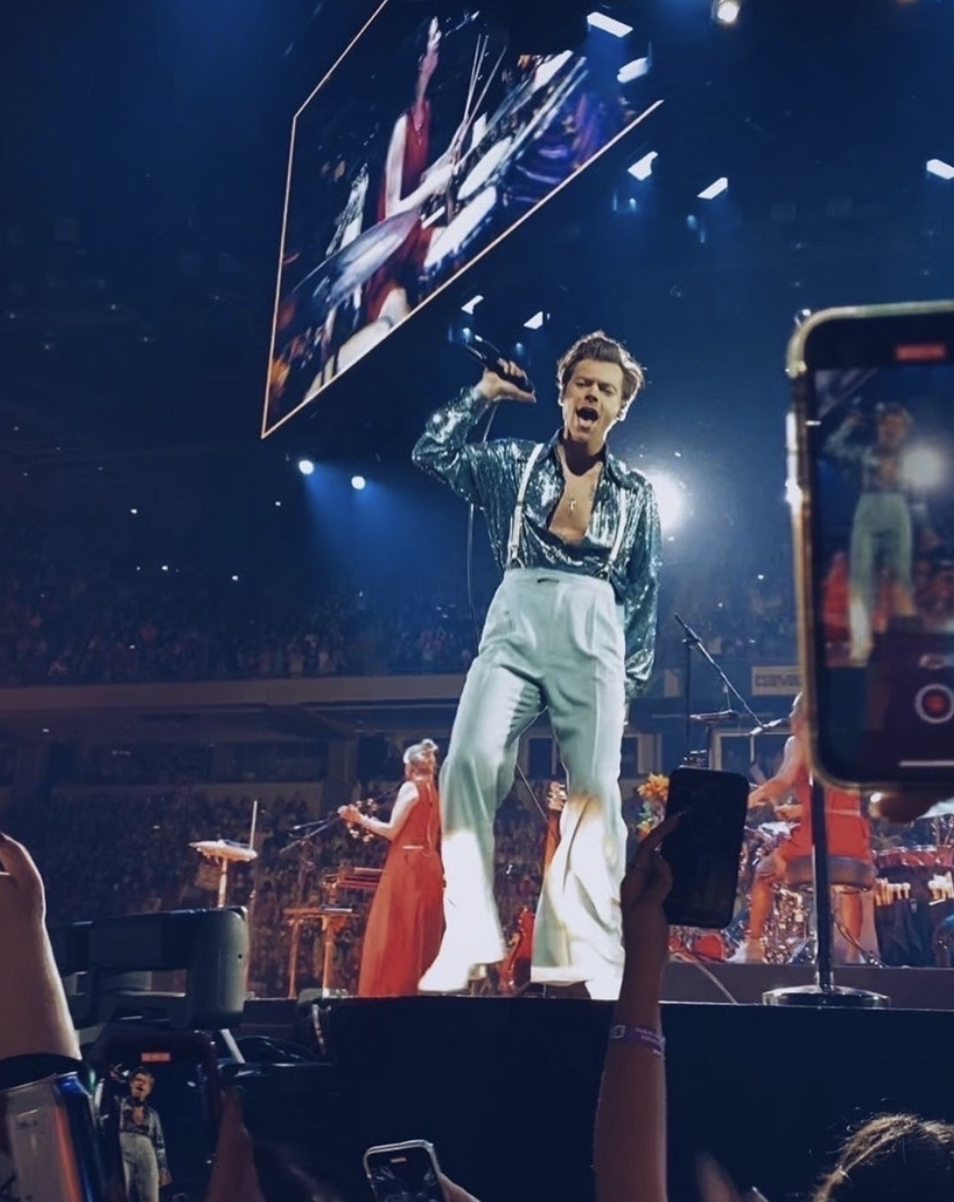 Since his first time appearing on TV in a dapper scarf and cardigan for his audition on the X-Factor in 2010, Harry Styles has been a fashion icon around the globe, finding creative ways to express himself through his own personal style.
"Whenever he would go to an award show and he would wear a floral pantsuit, that was him trying to differ from a basic boyband look, something he was more comfortable with that expressed himself more," junior Rachel Laster said. Laster has been a fan of Styles since he was in the boyband, One Direction. 
"He started doing magazines and really getting in touch with the creators and their sense of style," Laster said.

"[Another Man] was the first one that was out of his comfort zone right out of One Direction." It's obvious that his style has changed a lot since his boyband days–he's come a long way from white T-shirts, black skinny jeans, and Chelsea boots. 
During his Little Rock show, part of his North American leg of his Love on Tour, he wore a Gucci iridescent blue button down with light blue pants, along with his signature pair of matching suspenders and white boots. This was quite a contrast from even his early days as a new solo artist, let alone his boyband days.
Junior Stoney Rouse appreciates the way part of Styles' developing his personal identity meant embracing all aspects of himself. 
"With Harry Styles and people like Kid Cudi and Jaden Smith, [they're] men who just aren't afraid to be feminine and be in touch with their feminine side." 
In December 2020, Styles appeared on the cover of Vogue–in a dress. His appearance as the first solo male to be featured on the cover of Vogue caused uproar among fans and critics alike. Although he is certainly not the first male to wear feminine clothing, the size of his fanbase means his influence makes a greater impact. 
Laster feels personally affected by Styles' evolving self-expression. "Just seeing somebody I have idolized change how they're viewed helped me realize you don't have to look a certain way just because you were portrayed in a certain light," Laster said. "It really changed my view." Rouse also admires how Styles is able to embrace and express other parts of his identity.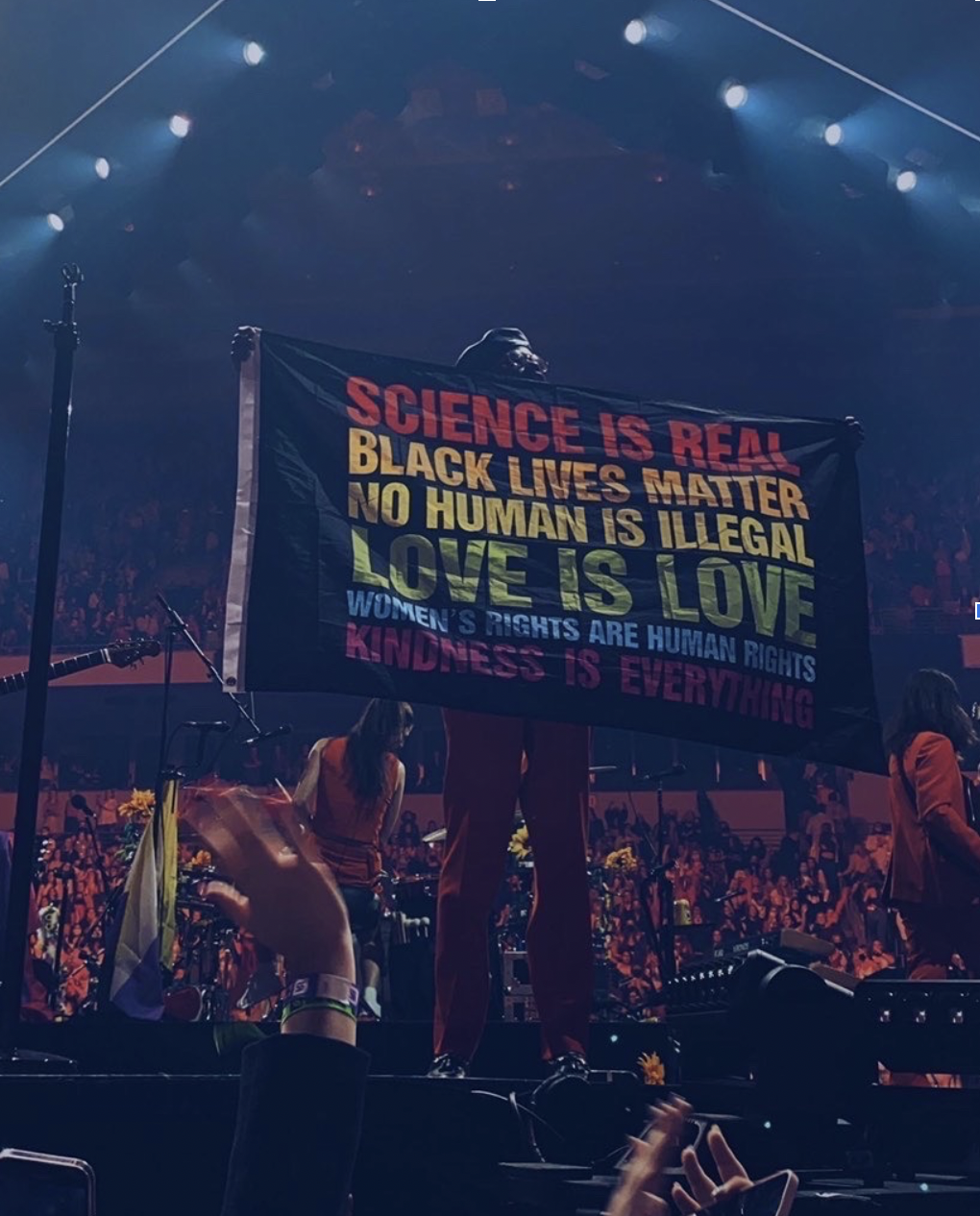 "I had way more [confidence], and I think it's because I was going to this concert where I knew people were doing the same," Rouse said. "It's something about the fact that it's a Harry Styles concert." 
Yes, Styles' concerts are certainly unparalleled in the way fans dress up for the show itself, mimicking Styles' stylish outfits or displaying their own fashionable tendencies. Some might even compare his concerts to fashion shows, as many fans consider their outfits (as well as Styles') to be one of the most anticipated part of the event. 
"It was so light and you could see that everyone was completely and 100% themselves with every single outfit, it was amazing," sophomore Caroline Lasley said. She also felt like she could be unapologetically herself at Styles' concert, a feeling Styles is always sure to encourage at the start of each of his shows. 
"My plan was to actually wear the clothes that I want to wear, because in certain environments I definitely get judged for the outfit I'm wearing but there, I saw so many people and I was just in awe over their outfits," Lasley said. "It was really fun seeing everyone dressed up the way they wanted to." 
Nobody holds back at Styles' concerts because they know that he doesn't hold anything back either. "Seeing people not be afraid to just express themselves and who they are and what they stand for," Rouse said. "It's really comforting."
About the Contributors
Gryffyn May, Editor
Gryffyn May is a senior and this is her second year on Tiger News staff. She joined the staff to help her and her staff become better writers, and because she wants to keep the Central community engaged and informed. She is excited to start creating print issues and go on trips for contests. When Gryffyn isn't writing, she loves to hang out with friends, travel, sleep, listen to music, or have an occasional read.
Beecher De Rossitte, Visuals Editor
What's up? I'm Beecher. I'm the Visuals Editor for the Tiger News this year. I enjoy poetry and all things to do with meditation and deeming self-awareness. I am a very opinionated person who is always trying to learn about others views and challenging my own.