Entrepreneur Utilizes Design Skills, Launches Business
Senior Kate Walters is a t-shirt business mogul. She designs, prints, and creates original t-shirts from her own house, distributing them to eager customers throughout the city.
Kate's thriving business began when she was faced with a problem. Her middle school, Pulaski Heights, was offering a summer trip to Europe. Kate was immediately interested, but, she was struggling to figure out how she was going to afford the trip. So, she decided to earn a buck for herself.
"I started just by making dog collars and tags for friends and neighbors," Kate said.
With funding from her business and a little help her parents, Kate was able to go on the school trip to Europe.
When she returned, she realized she now had quite the opportunity. With Kate's name out and about in the neighborhood, as well as her natural artistic skills, she knew she had to seize it.
Using her knowledge from the sewing lessons she took in elementary school, she started a t-shirt business as a freshman. She did everything from designing the graphic on the t-shirt to printing it onto the t-shirt. To her surprise, her t-shirt business expanded much quicker than her dog collar business.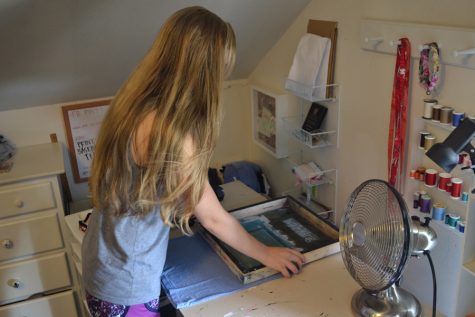 Most of her designs are stylistic representations of Arkansas, Little Rock, and scenes around Little Rock.
"I make t-shirts for many different occasions, mostly through special requests from friends, or friends of friends around school," Kate said. "But also for family reunions, or to sell in stores."
Kate's t-shirts can not only be seen modeled by students around Central, but also in popular Little Rock retail stores like The Freckled Frog and Boxturtle. Businesswise, Kate makes a comfortable profit from her t-shirts, yet she says the best part is seeing people wear the designs she created.
Her most popular shirt is the senior shirt for the class of 2017 here at Central. She designed the intricate tiger drawing on the back of the senior t-shirt that evolves into the class motto, "Almighty".
Kate is still making shirts, designing new ones, and saving up money for the next time a Europe trip comes along.