Best Of: Albums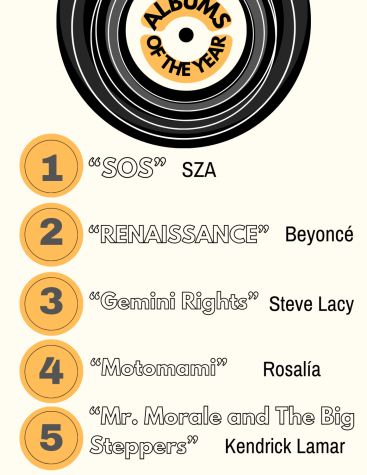 "SOS" by SZA
This is a late 2022 release, but I was hooked from the moment I started listening. It was released less than a week ago, on December 9. SZAs range in genre on this album is insane; from hip-hop/rap in "Low," to Paramore-esque pop-punk in "F2F,"  to indie-rock in "Ghost in the Machine," which is further reflected in the features she has on this album from Phoebe Bridgers, Travis Scott, and Don Toliver. This album is different from Grammy nominated "CTRL," which is heavy on the R & B and soul sound, but I would say it's just as good if not better. It's further testament to SZA's undeniable talent. 
"RENAISSANCE" by Beyoncé
Beyoncé makes her intention clear from the beginning with her album cover (her staring down the camera while sitting atop a metallic steed) and her all-uppercase song titles: the album is meant to be empowering and freeing. That it is. "Renaissance" has a new sound compared to Beyoncé's other albums, which seem to be very focused on the power of her vocals. The album is electric and energetic, and a little bit EDM; when I listen to it I feel on top of the world. Beyoncé says it best in "Church Girl," the 7th song of the 15-track album: "I'm gonna love on me/Nobody can judge me but me."
"Gemini Rights" by Steve Lacy
This album is probably best known for the instant hit "Bad Habit," but it has much more value than a viral song. It's Lacy's most thoughtful and polished album of the two he has released, and some songs sound different than anything he's done before; like the upbeat, poppy "Sunshine" featuring Foushee (my favorite on the album). He masters the R & B sound he is known for, however, through songs like "Give You the World," which ends the album on a reminiscent and forgiving note.  The album is about heartbreak, and Lacy's 10-song album explores the various faces of this theme throughout, hence the name "Gemini," the zodiac sign perhaps best known for being two-faced.
"Motomami" by Rosalía
Motomami has received critical acclaim from the moment it was released. The album is very experimental, and it differs from the other albums on this list in that it is entirely in Spanish. This album can't be characterized with a single genre; Rosalía switches between poppy dance music to delicate ballads or sometimes both in one song, as well as other subgenres of electronic pop. What made this album stand out to me was Rosalía's vocal talent in songs like "G3 N15," "Delirio de Grandeza," and "Como Un G." This album was mostly written in 2020 and 2021, and explores themes of isolation, broken relationships, and Rosalía's ambivalence on her position as a popstar. I'd never really heard of Rosalía before this album, but she made an impression on me and I look forward to her next album. 
"Mr. Morale and The Big Steppers" by Kendrick Lamar
Kendrick Lamar has not released an album since 2017, so "Mr. Morale and the Big Steppers" was an exciting return to the musical stage for Lamar. The album feels deeply intimate as Lamar reflects on his personal experiences, his family and friends, and his insecurities. Although the album is primarily hip-hop, Lamar incorporates some jazz and soul sound into the 19 tracks on the album. My personal favorite song was "N95."
About the Contributor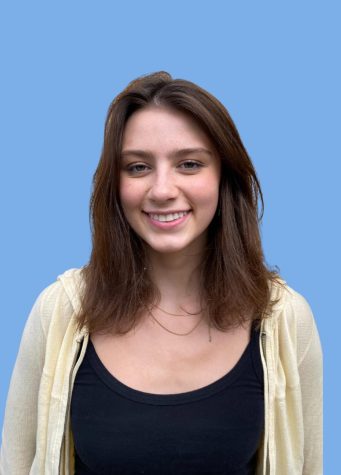 Sophia Finkbeiner, Copy Editor
Sophia Finkbeiner is a senior, and this is her second year on staff. This year, Sophie is looking forward to sharpening her photography skills and communicating the stories of Central students. She's also excited to bond with the new staff and make memories before she graduates. When she's not writing for Tiger News, Sophie enjoys spending time with her friends, working out, and tutoring other students. She's also the Co-President and devoted member of Central's Recycling and Ecology Club.