Best Of: Animated Movies
"Pinocchio" (2022) Dir. Guillermo del Toro
Though this adaptation of "Pinocchio" is far from being the first, it is without a doubt, the best. Unlike other screen adaptations, del Toro's version strays from the lighthearted tone often attributed to the tale after the release of Disney's "Pinocchio" in 1940. Instead, he and co-writer Patrick McHale, creator of the miniseries "Over the Garden Wall ," return to the complex themes found within the original Italian fairy tale while infusing his own blend of mythical and horror-based stylings that he is known for in his other projects, like "Pan's Labyrinth." Even though this film is intended for children, it is not afraid to tackle heavy-handed concepts such as grief and morality. This, coupled with the stylized storybook character design and fluid stop-motion visuals allow it to stand apart from any version before it.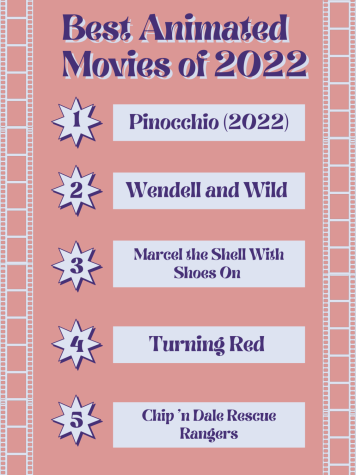 "Wendell and Wild" (2022) Dir. Henry Selik
"Wendell and Wild" is the perfect blend of both the horror and comedy that Jordan Peele has come to be known for; it manages to address serious topics like the prison system of America, loss, wealth inequality, and civil rights issues, all while telling a fun Beetlejuice-esque story that features the comedy of "Key and Peele." The colorful animation and fast-paced plot make it an entertaining and memorable watch.
"Marcel the Shell With Shoes On" (2022) Dir. Fleischer Camp
"Marcel the Shell With Shoes On" is a mockumentary produced by A24 that is a live-action and animated hybrid. It is not only one of the best animated features of the year but is arguably the most underappreciated. The film follows Marcel the Shell as he embarks on an adventure away from his home to find his family after all of the other shells who lived around him mysteriously disappear. Though the plot is not as fast-paced or high-stakes as the other movies on this list, it never gets boring. Because the plot is simple there is more time to appreciate the characters themselves and gives the viewer no choice but to root for them.
Dir. Domee Shi
"Turning Red" is a great Pixar film that shows the awkwardness that comes with growing up in a way that not many other films have. For a movie about ancestral curses that transform a young girl into a red panda, the main ideas of the film are pretty grounded. The situations that the main character Mei and her friends get into are not only relatable to the pre-teen experience, and their relationships with each other (as well as Mei's relationship with her mother) feel very genuine.
"Chip 'n Dale Rescue Rangers" (2022) Dir. Akiva Schaffer- "Turning Red" (2022)
 Honestly, I was not prepared for how much I would love this movie. With the number of lifeless reboots filled to the brim with famous intellectual properties that Disney is notorious for, I expected the same from this adaptation based on the 90's show of the same name. And, to a certain extent, this was true. However, it's the movie's use of properties and callbacks from other media that makes it so great. The cameos and references in this film work to its benefit by creating a layer of meta-humor that breaks from the traditional ways that Disney recycles its characters and plot lines. This is definitely an entertaining watch for people who enjoy well-thought-out who-done-its and those who appreciate humor that deals with internet references and fandom culture.
About the Contributor
Erin McNamer, Reporter
Erin McNamer, a senior, is a first-year reporter on Tiger News. In her free time, she enjoys watching movies, her favorites being The Shining and The Muppet Christmas Carol. In addition, Erin's humble brag is that she skis. She's excited to meet new people this year and tell the stories of Central.