Floods Damage Louisiana Homes, Locals To Rebuild
Thirteen lives have been lost as of August 30 due to destructive floods in Louisiana. Excessive summer rainfall has submerged buildings and reeked havoc on the state.
Geometry and pre-calculus teacher Melissa Riley lived in Louisiana for 19 years, and she has friends and family still residing there. Riley is devastated by the damage that the flood has done; the bases of buildings are ruined and must be reinforced.
"I am concerned because it's not something that just goes away," Riley said. "It's not one of those things where you wake up and look down the street, and it's gone."
Riley explains that although this flooding is causing major destruction, her friends and family have experience with the issue.
"The people I know in Louisiana dealt with Hurricane Katrina, so I know that they're prepared," Riley said. "It's a coincidence that the 11-year anniversary of Katrina was so close the flooding."
Although the victims have suffered major losses, disaster relief organizations have been helping them.
"The Red Cross has a lot of overhead fees, so the Southern Baptists Convention has been providing disaster relief," Riley said.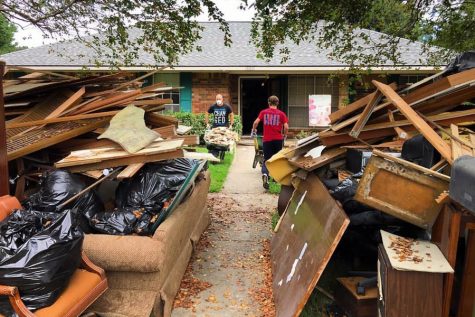 Riley feels confident that Louisiana will be able to recover from the disastrous flooding.
"Louisiana recovered from Katrina, so I'm sure that it will recover this time, too," Riley said.
Sophomore Madison Spencer also has family in Louisiana that has been affected by the flooding.
"My aunt, uncle, and cousin lost all of their furniture," Madison said. "Their entire house is flooded."
The flood has not only taken a toll on their possessions, but their family dynamic as well.
"My aunt and uncle are living with their friends until the house is repaired," Madison said. "But my cousin is living with another friend, so the family doesn't even live together."
Schools in Louisiana are facing damage as well.
"My cousin was out of school for about two months," Madison said. "The students are going to have to go to school far into the summer."
Spencer's extended family, although pressed by the cost of repairs, remains optimistic about Louisiana's future, much like Riley's family.
"The state is helping them deal with the damage a little bit, but they have to take care of most of it on their own," Madison said. "They were pretty shocked by the floods, but they are hopeful that they will recover."