Students Abroad: Tales From South Korea
August 1, 2016, fifteen students from the Little Rock Mayors Youth Council Leadership Program boarded a small plane at 6 a.m. in the Clinton National Airport for their first destination-Detroit, Michigan. I, as one of those students, prepared for a long six-hour layover at Detroit Metropolitan Airport, filled with dreaded summer reading, frequent restroom breaks, and airport exploration.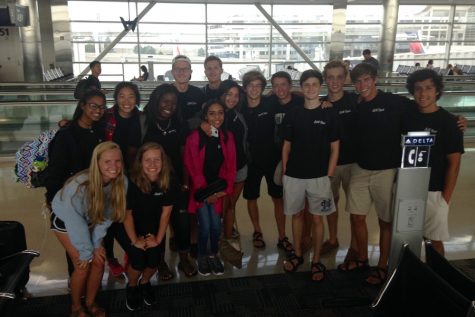 15 students from Pulaski Academy, Catholic, and Central boarded the Delta airlines jet for a 13-hour plane ride. A few students, including myself, tried to kill time by finishing up Frankenstein by Mary Shelley, but I ultimately failed when a stewardess asking if I preferred Coke or Sprite interrupted my much needed power nap. A few hours of Deadpool, Chongqing Hotpot, and the Notebook made the rest of the time fly by for me and my seat neighbors, Pulaski Academy student Bree Harper and Central alumni, Jada Brunson. When we finally landed at Incheon airport in South Korea, I was ecstatic to find out that our "host families," the people we'd be staying with for our week in Korea, were waiting for us with welcome posters and open arms. Their warm smiles and excitement made our experience worth the wait from the very beginning. A small lady named Yuni with a short bob hairstyle and her two young daughters, ten-year-old Yerin and thirteen-year-old Yena, greeted me.
After boarding a small bus to a restaurant, we were served Kkori Gomtang (Oxtail Soup with glass noodles) and a variety of other side dishes like Kimchi and white rice. After dinner we all split into different groups with our host families and went to our weeklong home stays in apartment-style homes. Before I even had the chance to settle in, my family (whose extent of English was only conversational dialogue), attempted to ask me what my favorite foods were. I randomly answered pizza, chicken and oranges, as I couldn't quite snap out of my daze of being in a foreign country for the very first time. The two young girls were most excited to hear me speak about my favorite things and revealed to me that they learn a bit of English in school. Utilizing a translation app, my host mother, Yuni, communicated that we would be going to a small get together with family friends before bed. It was nearly 11 p.m., so it surprised me that we'd be staying up so late, but nevertheless, I was happy to see what was in store. I ended up at the host stay of one of the other host students, whose family ended up being close friends with mine. Initially, I was confused about why I had been greeted with pepper pizza, oranges and fried chicken, but remembered that I stated earlier that those were my favorite foods. I was flattered that they had gone out of their way to buy me more food even after dinner. After being stuffed with more treats, I played around with their cute fluffy white cat with the most green and humungous eyes I had ever seen. I retreated back to my own host home after an hour of conversing with what would become like a second host family to me.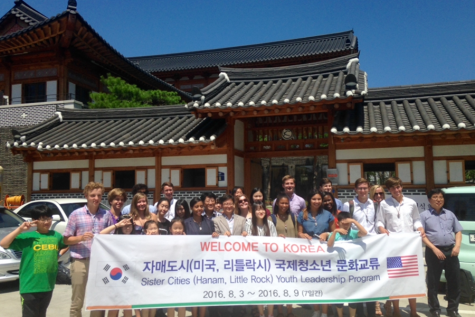 The next day we woke up around 6 a.m. and met at Hanam City Hall with the other MYC students and their host kids. Our first stop was the Hanam City Museum of History where we were educated on the relations of the city of Little Rock and Hanam City we learned Little Rock donated a handmade Korean flag to them during the Korean War. A few weeks prior to Little Rock students visiting Hanam, the South Korean students hosting us did the same in Little Rock. They visited the historical Clinton Presidential Center and Central as well as the downtown River Market. By traveling to Arkansas they experienced the small town life of America and experienced the culture. After that we ate lunch (more like a feast of dishes such as square beef patties, shrimp, glass noodles, and a bunch of stuff I'm probably not able to pronounce). We continued the day by touring a Hanam City environmental tower and observed the beautiful suburban city from the top of it.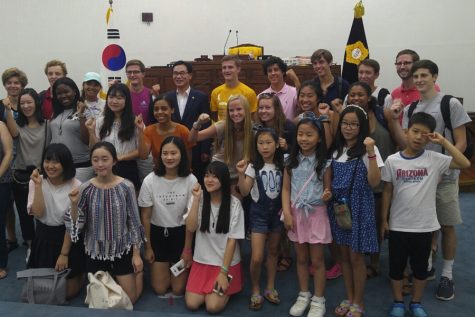 We later took a calligraphy class and learned how to write in Hangul, the traditional Korean writing system. We finished off the long day with McDonalds, although most of the foods we ordered were anything but ordinary. I'd personally recommend the limited shrimp burger that's only available in South Korea and a few other Asian countries.
As we traveled back to our home stays, Yuni wanted to introduce me to more family friends who also happened to stay in the vicinity where we were located. Once again I was bombarded with lots of fruit (strawberries, white peaches, mangos) and desserts by another host family, who nearly adopted me as their host child. I guess I would say that I had three host mothers while in Korea, and many younger siblings.
Much like the previous day, we all boarded the tour bus, but this time our destination was Seoul, the capital of South Korea. The town is filled with many visual attractions, various shopping centers and the top K Drama and K-Pop stars of the country. While walking hand in hand with the students down the busy shopping district of Myeongdong we entered the theater where the popular cooking show, 'Cooking Nanta!', was held. The show is most often described as Jackie Chan meets Korean cooking, although it put me in the mindset of an even more creative version of Stomp the musical.
Hot pot (a boiled broth where add ingredients such as beef, egg noodles, cabbage and other things) followed the hot day in Seoul. Our experience in the more urban area of Seoul was elevated, as we climbed up a very steep hill to get to the famous Seoul Tower located on Namsan Mountain.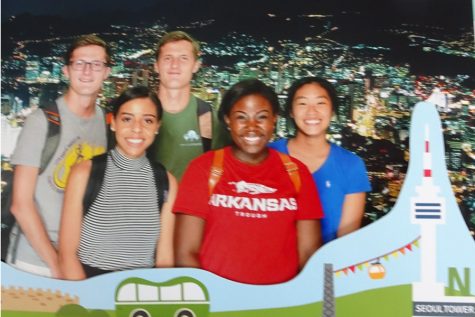 At the base of the tower (also called Namsan Tower) were numerous padlocks where lovebirds lock their declarations of love on the observation rails with their names written on it. I bought my own pink lock and broke tradition by writing my own name and message on it (if you're ever there try and find it!). A small shopping trip at multiple beauty and accessory boutiques like Etude House, Tony Moly, and Nature Republic concluded the day.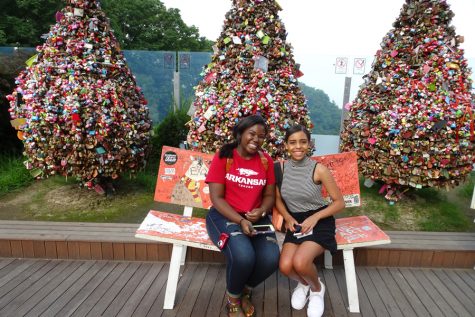 To try to beat the summer heat, a visit to Caribbean Bay (a part of the popular Everland theme park) consumed the following day. Many park rides and wave pools across the park were filled with people of all ages, a few of whom timidly, but excitedly greeted me and other Central students, Jada Brunson and Karina Bao. For about an hour we took shelter from the sweltering heat in one of the theme parks many cafes, where young fashionable elementary students frequently passed by. The MYC group ironically bumped into a group of British students from London who had just come from Busan, South Korea on a mission trip. You could say the experience of eating the world's best churros (in my opinion) and playing around unique water rides was a cool experience, but the weather sure wasn't.
We were treated to Korean barbecue, which was by far one of the most delicious meals on the whole trip. After eating what seemed like pounds of beef and onion wrapped in Perilla leaves and lettuce, I and two other MYC members were going to visit the local karaoke (after my host mothers noticed my recognition of a poster of famous Korean singer IU in the restaurant) while the rest of the group went to the neighborhood basketball court but we never made it, as we all passed out in the back of the car from exhaustion.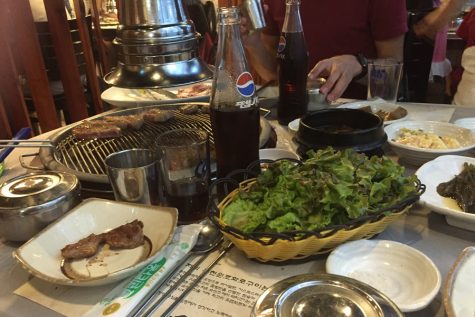 Our second and final day in Seoul, was my favorite because we went back to Seoul but this time to shop and explore in Myeongdong. The packed shopping district was filled with global and local stores food, clothing, jewelry and music stores. We visited many of them and even stumbled upon a hidden K-pop music store atop of a Nature Republic. I and two other MYC members were whisked away from the rest of the group to attend a picnic with our host families. My own family brought along their children and nephew who frequently visited on the weekend when he was not at studying at an international school. The three families enjoyed more homemade Korean barbecue, ramen and corn with mozzarella, while the children played in a nearby pond, as we talked about our contrasting lives. The scenery was beautiful as the sunset and the shade provided us some protection from the heat and humidity.
Back home, as I entered my room (which was actually Yerin's room that she allowed me to stay in during my visit), I looked around at the all of the coloring books, dolls and then at my bags stocked full of albums, clothes, and jewelry in the corner of my room. I heard a knock at my door and a polite "Hello can I come in?" from both my host mom and host dad. Any sleep that I intended to receive as soon as I entered the door went out the window when the whole family wanted to see what I had purchased. The little girls squealed as they saw music that they also liked in my shopping bags and the parents were delighted to see that I presented them with gifts I brought from America and from that day.
For another hour (but what seemed like forever) their nephew played numerous renditions of songs on the piano, which was fine by me because it sounded nice. The following morning my host mom woke me up to a large breakfast of salad, strawberry yogurt, toast with jam, sunny side up eggs, donuts, ham, bacon, glass noodles and more. As I attempted to stuff my face she seemed so pleased and began making me numerous handmade bracelets for my real family and me. It was one of the sweetest moments, because I never asked her to do it. We all Facetimed my mother, father and uncle communicating through broken English, Korean and translation apps.
After a night of about four hours of sleep, I made my way to back to the city hall and was met by the warm welcomes of my new friends Jihye, Yejin, and Yeongseo, who were the host sisters of other MYC members. The whole group made their way into the city hall, as we held a small conference-like ceremony in the city hall. We then traveled to the National Museum of Korea and the Blue House to view the National beauties of Korea.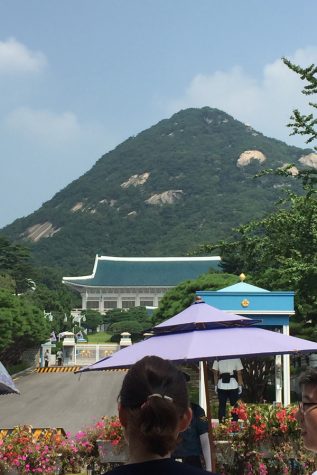 The next day wrapped up our stay in South Korea with a blast from the past. As we traveled to Yongin City we passed many hills and ended up in a traditional Korean village. We ate lots of treats of foods like Bibimbap and shrimp chips while touring the grounds, then almost got rained on while watching an impressive horse show. Later that night I went to a dessert cafe with my three host moms and ate chocolate Bingsu and melon. The sweet treat topped off my bittersweet departure of the beautiful lands of Asia. Although some tears were shed with my new friends, I knew that our friendships would last for a lifetime, and hopefully we'd all be able to meet again.