Walking into Vino's "Mixed Genre Night" on Aug 26, I expected to be met with a typical rock mosh-pit or smooth jazz, but I was surprised to hear the sweet sounds of R&B. Each set had their own different sounds. Sets from Coffey, 6norlax, and Tbandz were more bluesy and slow while other sets such as Yung Envy, Johnny Vine, and Phazzoo were more experimental and rap-based.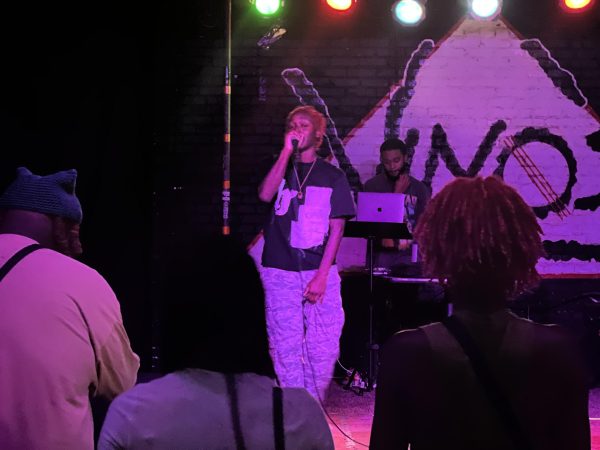 My top three artists from that night would have to be Tbandz, 6norlax, and Johnny Vine—all Arkansas based musical artists. Tbanz, had a slower and velvety voice. She sang about relationships and heartbreak coming from an LGBT point of view. I really appreciated her mellow songs and her ability to still get the crowd hyped ,though her lyrics were intimate and personal. 6norlax, this set was one of my favorites. 6norlax sound was a mix of pop and lofi hip hop. His songs were fairly slow and easy to vibe with, the artist also wore a knitted snorlax benie ,and as a Pokemon fan I felt seen. Johnny Vine had pretty alright set with it being a very basic rap style, but it did remind me of old freestyle flow. I really enjoyed his stage presence and ability to stay so confident. 
People of all backgrounds were there, appreciating black culture and art. It's exciting to see Vino's welcoming underground black artists to express their art and creativity. I've only seen vinos as a place for alternative white music and white artists. The flyers I've seen for them n have been for punk rock or indie goth. Im glad to say that I was very wrong and that vinos is really a place for everyone to experience different forms of music with like minded people. I would give my first ever vinos show a five stars.