Taylor Swift/Nashville
The clock read 1:30 a.m. as the Eras Tour night three in Nashville came to a close. May 7, the concert, delayed four hours by thunderstorms and lightning left the 70,000 Taylor Swift fans cold and soaked. Junior Grace Kamps was seated in the pit, and though she couldn't take the confetti as memorabilia, as it was soggy and clumped together, she left feeling rejuvenated and reborn.
While waiting for the show to start, fans traded Taylor Swift themed friendship bracelets and showed off their outfits that represented her "eras." The eras represent different times of Taylor Swift's life and the emotions that correspond with her albums. Representing her "Speak Now" Era, Kamps wore a flowy lavender dress accompanied by a lacy ribbon, tying half of her hair up. 
"The Taylor Swift fan base is so supportive whenever you're around them," Kamps said, "I had so many people come up to me and be like, 'Oh my god, I like your outfit! So cute!'"
The show officially started a little after 10 p.m., and although the openers being canceled was a disappointment, Kamps said Swift's songs, "Would've Could've Should've," and "Mine," made up for missing boygenius and Gracie Abrams. 
"
"Taylor Swift is like a divine spirit. Seeing her music live is a completely different feeling than watching videos or listening to her music. It's nothing compared to being 20 feet away from her." 
— Grace Kamps
Phoebe Bridgers, one of the canceled openers, came on stage later with Swift to play "Mine" which Kamps said was the most memorable part of the night.
The second half of the night was interrupted with downpours again, which Taylor Swift labeled the first rainshow of the Eras Tour. 
"It was like pouring on me, and it was freezing because the rain was cold too," Kamps said. "Everyone was soaking wet."
Nashville being the second Taylor Swift concert she attended on the Eras tour, the first in Arlington, Texas, seats in the nosebleeds, she felt that being in the pit really made the experience more valuable.
The Chicks/North Little Rock
July 22, sophomore Olivia Ward. saw The Chicks at Simmons Bank Arena in North Little Rock. Accompanied by her mom, Ward sang and danced as the closing song, "Goodbye Earl," filled the stadium.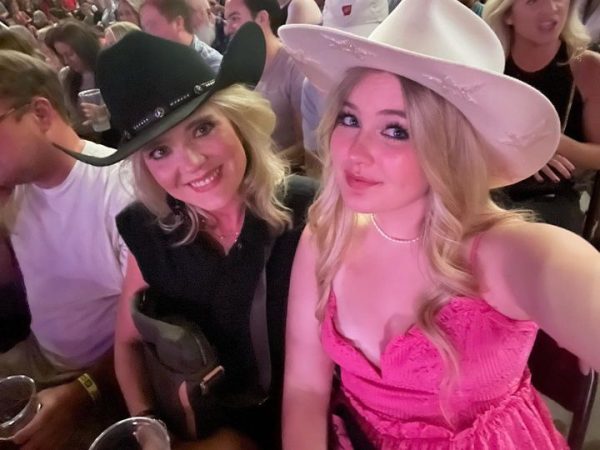 Dreaming of going to The Chicks concert partnered with the doubt of them going on tour one day, Ward was passionate to see them live. Seated in the 15th row, she said she was close enough to see their facial expressions and feel personally connected. Her favorite song was "Cowboy Take Me Away," to which she danced and cried with her mom by her side.  
"Whenever I was just with my mom it was the most authentic experience because it makes me feel like I'm living the same life that she did," said Ward. "She brought me up listening to them, and she was living her high school dream, with me in high school."
Beyoncé/Chicago
Aug. 23, Senior Rory McCuin and her friends attended Beyoncé's "Renaissance World Tour" concert in Chicago. McCuin and their friends were initially apprehensive about whether their tickets were a scam since they were only $50 and their seats were farther from the stage than they expected.
"Everyone was like, 'Oh my gosh' are we really far away?" McCuin said. "Later we realized we didn't have to worry much about where we were, we're still going to experience it and have our fun. We got to dance way more, and there was a lot of room to be silly."
The last row seats also allowed McCuin to view the stage in its entirety. They were able to connect their passion for art and 3D design to the concert and the stage, enriching their experience.
"Oh my gosh it was really inspiring…" McCuin said."It was really fun to watch and see the concert, and think about how they made and produced everything. The visuals were so interesting." 
Even before the concert, the Renaissance album impacted McCuin as their go-to album while making art.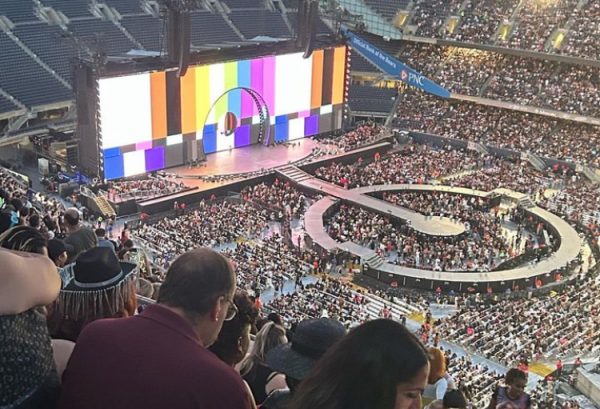 "Whenever I listen to that album, I get a lot more colorful," said McCuin, "And when I create and I feel more free to make freeform, organic, abstract things. I feel a lot more open to new ideas and experimenting." 
Because of Beyoncé's professionality and long career in the music industry, McCuin believed she perfected her shows and continued to inspire many different groups of people. Being a "superstar" in McCuin's eyes, she motivated them to work hard for their own passions. 
"[Beyoncé's] Renaissance album was about being Black and supporting the LGBTQ+ community. And, she really created her own community that I and a lot of people feel really connected with," said McCuin. "I really just think that she's able to bring a lot of people together."
Lana Del Ray / Rogers
Junior Catherine Brown, a long time fan of Lana Del Ray, and 11,000 fans filled the Walmart Amphitheater in Rogers, excited to see the artist live. With the location announcement just a week prior, fans were surprised when she decided on Arkansas. Within three hours, tickets sold out.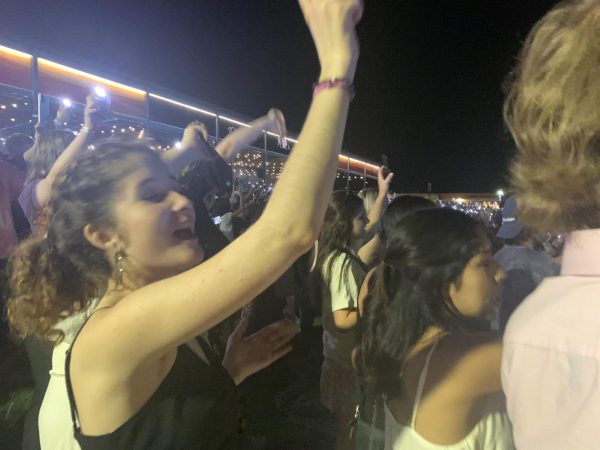 Brown said Lana Del Ray talked to the crowd, and explained that Arkansas wasn't just a random stop, and had meaning to her. 
"You can really see how she's developed as a person and has come over those things throughout her music, it's inspiring to me, you can just like, feel what she's feeling," Brown said.  "A lot of her music does resonate with me, it's just more personal to experience it in person."