Bathroom Upgrades Leave Students Unimpressed, Disappointed
A 90-year-old school is going to need some upgrades along the way, especially if it is under constant use by more than 2,000 students a year. One area that gets a lot of wear and tear are bathrooms.
Last summer, six bathrooms–two on each floor– were remodeled. Improvements to the bathrooms included renovations to everything except the floors. The bathrooms that experienced remodels had their floors scrubbed with bleach and had automatic flushing systems and soap dispensers installed. In addition, the bathrooms had new tile replaced and were re-painted.
"They were old and in need of updating," LRSD Director of Maintenance and Operations Wayne Adams said.
Not all of the bathrooms were remodeled because of cost, and some bathrooms needed to remain open for summer programs occurring at Central.
One female and one male bathroom were upgraded in the basement and on the second and third floors. Principal Nancy Rousseau was disappointed to find out that the bathrooms on the first floor were not included in the renovations.
"I would have told them to do the first floor bathrooms because they are definitely the most used," Rousseau said.
Central is no stranger to renovations and has been an official National Park since 1998. Although the school's day-to-day upkeep is the responsibility of the LRSD, the National Park Service often collaborates with the LRSD on special projects, such as the remodel of the front doors in the late spring of 2016.
"Our site partnered with the Little Rock School District to remodel the doors," National Park Service employee Toni Webber said.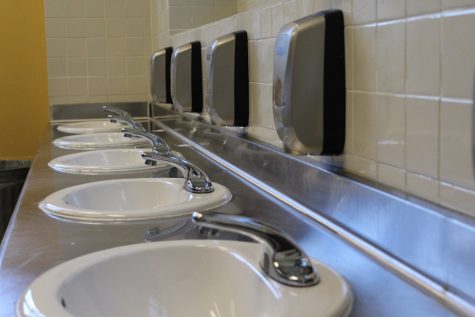 Many students share mixed emotions on the new bathroom improvements.
"I think the renovations were unneeded because the improvements just ended up breaking and getting dirty, and I think we should have spent our money on funding clubs," sophomore Ann Rayburn said.
There have been many complaints of malfunctioning equipment in the girls' bathrooms with the main problem being that many automatic soap dispensers fail to work and the dryers are often uncooperative.
"I like the bathrooms, but it's not something that's too huge of a deal," sophomore Jakob Mueller said.
Rousseau was informed that the remainder of the bathrooms will be completed in the summer of 2017.