Politically Active Students Lean Left
When driving on I-40 West to Conway, a Trump billboard grabs commuters attention. Neighborhoods in Little Rock sport either Clinton, Trump and even some Johnson yard signs. Many parents impose their political beliefs on their kids; however, Central's politically active students and teachers seem to lean towards the left, or towards the Democratic party nominee, Senator Hillary Rodham Clinton.
A plethora of "Heck Yeah Hillary" tee shirts dominate the hallways, and laminated newspapers announcing outgoing President Obama's inauguration can be spotted in many classrooms.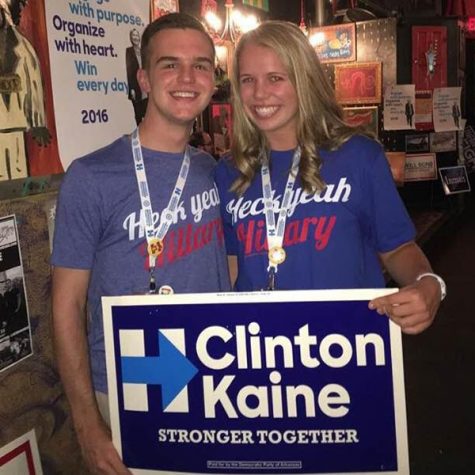 Maybe it's just a coincidence that our school is so liberal. It is a public school in downtown Little Rock, with students who come from a variety of socioeconomic backgrounds, different religions, and races. I have overheard from several students that Central is a school full of "liberal oppressors", meaning many teachers and students look down upon conservative beliefs.
Not to say that social media is the best judge of popularity, but our school's Young Republican's Instagram account (@lrch.yr) has 10 followers, while the Young Democrat's (@lrchyoungdems) have 59.
Most freshmen enter high school and know little to nothing about politics, other than what they hear from their parents. The first semester Civics class almost always seems to change that. Learning about the government and current events, results in students having to learn about the political parties and establishing their own beliefs. They then start to align themselves with a party and make decisions that might be different from what their parents hold. These classes are some students' first exposures to objective politics, and make them think critically about what they've been conditioned to believe.
Although being a part of this paper might make me one of the "liberal oppressors," because of our coincidental liberal focus on some ideas, I'm glad to go to a school that encourages free thinking and political involvement. Central fosters these behaviors with clubs like the Young Republicans and Young Democrats, and also sends students each summer to Girls and Boys State, and Arkansas Governor's School to extend their critical thinking about politics and views on current events.