New Addition To Faculty Brings Mentorship To Students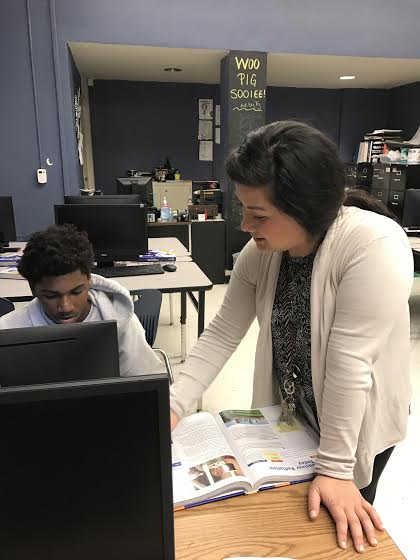 She started as a mere student teacher for Melissa Donham's Biology class. She was an unknown face on campus, but not anymore. Now Tracy To is the newest Physical Science Teacher in the Science department.
To got a taste for the Tiger community when she finished her degree in the student teacher program.
"There is definitely a difference between student teaching and being a full time teacher. I am learning a lot more and at a much faster pace this year compared to last," To said. "I also don't get stopped by security as much this year."
To has always been interested in Science, so she pursued a career in it at the University of Central Arkansas. However, the teachers there touched her and inspired To to participate in the MAT program and become a teacher. MAT (Masters of Arts in Teaching) is a program for those who wish to become a teacher after they have already graduated with an undergraduate degree.
"I had some really great teachers and mentors who played big roles in getting me to where I am right now. They genuinely cared about me and often times went out of their way to make sure I got the help that I needed," To said. "They made me believe in myself and my abilities, which is what I want to do for my students."
What convinced To to stay here however was the support she received and promise she witnessed in her time as a student teacher.
"I decided to come to Central because I really wanted to be a part of this school and community," To said. "I love that we challenge our students to be more innovative and reach out to our greater community."
What really sealed the deal for To was seeing the future great minds of science participate in the science fair.
"It was awesome to see how much the students learned through this experience and seeing them share that not only within our school, but also with everyone else in the community who was interested and supported our students," To said.
Her future plans are to continue teaching and working with the young people at school. What motivates her to continue teaching is getting to witness her students grow and evolve.