Kings and Queens of the Board
Since 2019, the school's Chess Club has been an avenue for students to compete in the classic game. For the students who participate, however, chess has become more than just a game. The team recently placed 2nd at the State Tournament racking up three wins and a draw. Last year, they won it all. Despite its competitive nature, the club is open to all, which one look at the non-stop use of the chessboards in the school's cafeteria and patio could tell you.
Though the team has a steady record of wins, mathematics teacher John Madlock didn't start the club for trophies. Madlock, who would arrive at school early, noticed many kids had nothing to do during that time. He began playing chess with a few to prepare them for the school day.
"I've been playing chess a long time," Madlock said. "I love the game and I know that it'll help you think."
While there are many reasons Madlock continued to sponsor the club, his ideas about the school system's structure were the biggest. He believes students at the "bottom" of academics are given much more attention than students with higher scores and grades. 
"I kept going because I deal with both," Madlock said. "The kids who were getting here early didn't have the management skills that chess offered but the gifted and talented kids weren't getting any attention. That's why I sponsor it."
Among the team's top players, one stands out. Though only a freshman, Sreedev Raghav went undefeated at this year's state tournament. His success didn't come overnight. He attributes his wins to a lifetime of playing.
"I've been playing chess since first grade and I just decided to join the team at Central," Raghav said. "I just like how you can think about the game strategically."
While Raghav has been playing chess for his entire life, Senior James Mulhollan's story is different. Mulhollan has seen it all, from the state tournament to the yearly invitational tournament the school hosts. Chess runs in his family; his dad was president of his college's chess club. But his window into the game only came during the COVID-19 lockdown when he stumbled upon a tutorial video. He has been playing in the club since.
"It gives people another hobby. Chess is a game where you can be naturally talented, but unless you actually practice, you won't be good," Mullholan said. "It's a rewarding activity. It gave me something to do at the school, so I'm thankful for it."
About the Contributor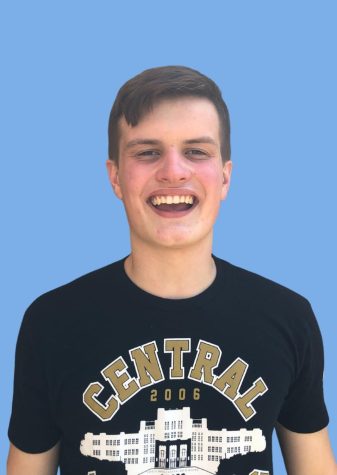 Henry Chilcoat, Business Manager
Senior Henry Chilcoat has been on Tiger News staff since he was a junior. Outside of school, he enjoys a good book. Henry also enjoys wrestling for the school's team. He's very excited to see what this year's news staff will bring to the table.