Metro Culinary Classes are Underrated
As you walk into the kitchen, the smell of southern fried chicken and sautéed turnip greens envelops you as high-school student chefs around the room are slicing yams, heating pans with oil and coating the chicken to prepare their meals. By the time the class ends, meals will be plated and prepared to be judged by taste and their execution of the recipe.The Metropolitan Career Center (Metro) classes provided by the district allows students to get hands-on experiences with careers that interest them. There are 12 courses included in Metro, the most popular being welding, criminal justice, and culinary arts.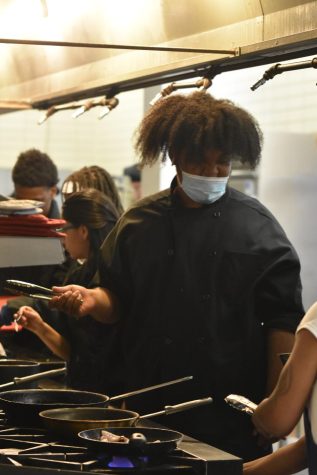 Culinary arts courses are available for those of any skill level. The beginner course is Food Safety and Nutrition, and as students become more versed in their culinary skills, advanced courses like Food Production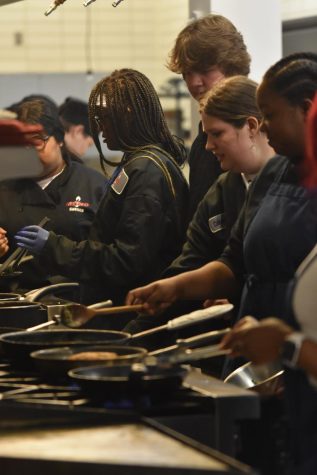 and Service and Culinary become available. The beginner level includes students studying a certain course of food, then at the end of each lesson, they get to cook the food they learned about. In the advanced classes, Metro partners with community chefs who share their culinary advice. Students are able to take the opportunity to learn outside of a classroom with provided field trips. These trips give students a glimpse into the daily life of chefs and help students get an understanding of careers in culinary arts. Beginner students first go through meal plans, and then groups are assigned a meal, which has all aspects of cooking; learning knife skills, baking, following different types of recipes, and displaying their meal in an aesthetic fashion.
Gustav Mitchell, a beginner sophomore cook, was interested in cooking and the course being offered prompted him to join Metro. He said that the opportunity has given him more experience in the culinary industry.
"My favorite dishes were in the breakfast food lesson because it had the most familiarity," Mitchell said.
Junior Samantha Calhoun prefers to make different desserts. April 19, in Tara Rainey's Food Production and Service class, Calhoun prepared candied yams through a variety of steps that included boiling the yams, coating them with a topping, and putting them in the oven to bake.
"I've learned skills to help me cook and keep cooking safe. I've definitely gotten more comfortable in the kitchen," Calhoun said.
About the Contributor
Kyah Kaufmann, Reporter
Kyah Kaufmann is a sophomore and this is her first year on staff. She is looking forward to getting to know everybody on staff as well as getting to write stories and explore her interests in journalism and photography. Tiger News is important to Kyah because she wants to get out there, help and engage in the Central community, and exchange ideas with her peers. Aside from the newspaper, Kyah loves to be outdoors. She throws for Central's track and field team. She also enjoys reading, writing, and journaling.