Asa Hutchinson Announces Presidential Run
Former Governor criticizes Trump
Former Republican Governor Asa Hutchinson announced his candidacy for president in Bentonville, Wednesday, April 26. He previously indicated his intention to run in 2024 during an interview which aired on ABC's "This Week" Sunday, April 2. 
During that appearance, Hutchinson offered his vision for the future and sharply criticized former President Donald Trump, who was recently indicted by a grand jury in New York for alleged crimes related to an effort to cover up an extramarital affair during his own 2016 presidential campaign.
"I am going to be running. And the reason [is], as I've traveled the country for six months, I hear people talk about the leadership of our country, and I'm convinced that people want leaders that appeal to the best of America, and not simply appeal to our worst instincts," Hutchinson said. "I believe I can be that kind of leader for the people of America."
Hutchinson has had a long history both in Arkansas politics and on the national stage. He served as a federal prosecutor from 1982 to 1985, a congressman representing Northwest Arkansas from 1997 to 2001, the administrator of the U.S. Drug Enforcement Administration from 2001 to 2003, and the undersecretary for border and transportation security at the U.S. Department of Homeland Security from 2003 to 2005. From 2015 to 2023, Hutchinson served two terms as the governor of Arkansas. 
While he was governor, Hutchinson signed a "trigger law," legislation designed to ban all abortions except when the mother's life is endangered. This policy became law after the Supreme Court struck down Roe V. Wade in 2022. Additionally, Hutchinson signed laws that prohibited cities like Little Rock from passing ordinances designed to combat discrimination against LGBTQ+ Arkansans and businesses from implementing COVID-19 Vaccine mandates. 
In 2022, Hutchinson made headlines when he rejected a bill passed by legislative Republicans which banned gender affirming care for transgender youth in Arkansas. His veto was eventually overridden by the legislature.
Hutchinson now joins a growing field of Republican candidates which include former Ambassador to the United Nations Nikki Haley as well as Trump, who announced his third presidential campaign last November. While other candidates have expressed interest in joining the race, Hutchinson is the only current candidate who has directly called upon Trump to withdraw from the race in light of his recent indictment. 
"Well he should," Hutchinson said. "I mean, first of all, the office is more important than any individual person. And so for the sake of the office of the presidency, I do think [Trump's indictment] is too much of a sideshow and distraction."
So far, Hutchinson has failed to register support in most national polls, and it remains unclear whether he will be able to break through in the race for the Republican nomination. Nonetheless, during his announcement speech, Hutchinson made clear he believes Americans are ready for change.
"I am confident that America is ready to seek new frontiers, and that we are ready to channel the restless waves of our democracy into more freedom and more prosperity for those who follow after us," Hutchinson said.
About the Contributor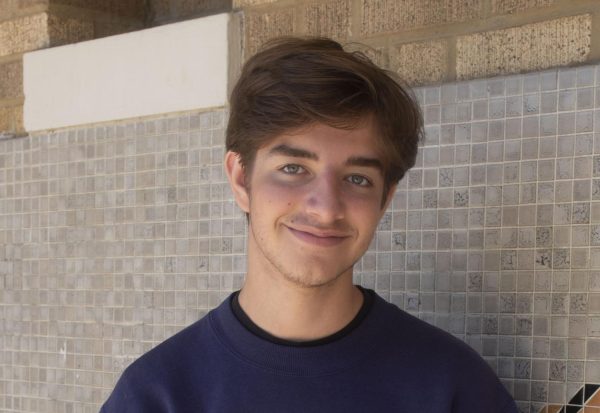 Jack Baker, Print Editor
Hi! My name is Jack Baker, I'm in 12th grade, and I'm so excited to serve as the print editor this year! This will be my third year in journalism class, but my favorite subjects are history and English. I'm particularly interested in politics and modern culture. When I'm not at school, I'm usually competing in policy debate, running cross country, playing the piano, or hanging out with friends.