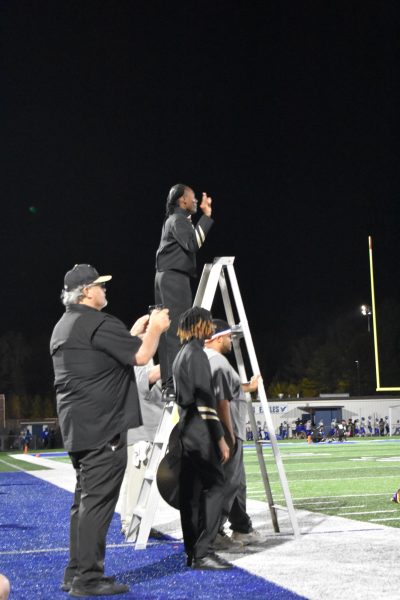 The school's marching band has taken a new direction with its setlist, featuring pop hits. Band director Shane Fudge chose the music during the summer and the band began practicing before school started.
The assistant band director, Mario Humphries, was recently hired and has a new vision for the drumline.
"We got Lil Nas X and Jack Harlow, we got 'Yeah!' by Usher, that's my jam, and we got flow rap," said Humphries.
Jadon Sanders, drum major of the marching band, emphasized the band's enthusiasm for its new pop fusion theme.
"So we have a bit of K-pop, we have hit R&B, 'Crazy in Love' by Beyonce, 'Butter' by BTS, 'Bad Guy' by Billie Eilish, 'War Pigs' by Black Sabbath,' and 'Ready For It' by Taylor Swift."
Sanders is graduating this year, and his favorite part of being drum major is working with all different types of personalities.
"We all come from different backgrounds, but we all come together with music, and I really hope that stands after I'm gone," said Sanders.
Sanders believes that Humphrie's experience in percussion will help the band thrive. The man who taught Humphries how to play drums at a young age introduced him to the band at the University of Arkansas at Pine Bluff.
"So he showed me the UAPB culture and everything about it. And I thought it was amazing. I thought, 'that's what I want to do with my life.' I want to be a band director and teach other people how to do that," said Humphries.
Humphries attended UAPB and received an academic and a band scholarship. In his junior year, Humphries became a section leader of the UAPB drumline despite not playing during his freshman year. After attending UAPB, Humphries decided to start producing music, but he ultimately pursued a different career path.
"I wanted to build something," said Humphries. "So I went back to school after like four or five years."
Humphries received his degree in music education at UAPB. He eventually decided to work for the school's band because of the historic opportunity it presented. Humphries is thankful for the significant impact that music and the school band have had on his life.
"That's why I tell people, the importance of band is you can really change your life, and it can take you all over the place," said Humphries.
He said the drumline practices every night because he wants them to perform with maximum effort and quality at football games. Humphries wants band students to have fun playing their instruments while improving their skills.
"I want to build something, so I want everybody to know Central's drumline don't play, we get down."