Art Teacher Stacey Mitchell Enjoys Fun, Family All Around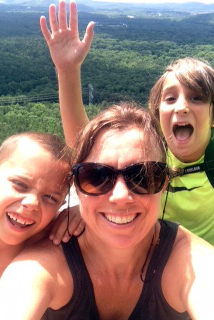 A great teacher is one who can successfully balance school and home life while bonding with students and having fun teaching. Art teacher Stacey Mitchell is one teacher who loves her family, her students, and the art she teaches.
Stacey has taught art for 13 years, nine of which have been at Central. It seems she has taught every art class under the rainbow, including everything from 3D design to AP Art History. She loves teaching studio art .
She often develops close bonds with many of her students. She considers many of her students to be her second family.
"My favorite thing about working at Central is my students," Stacey said, "I love the diversity of my students".
Loved by all of her students, Mitchell has no plans to leave Central in the future.When surrounded by her students, she may seem like an extroverted and talkative person but in fact, Mitchell is an introvert in disguise.
Mitchell grew up in a small family. She now has two sons. Her youngest son Gus is 10 years old and her 13 year old son is named Leaf.
Outside of the classroom, Stacey enjoys creating her own art by painting on found objects. Year round, she has a summer and winter garden. She also is passionate about nature.
"I enjoy getting outside, " Stacey said, "I love gardening and I also like to hike and camp and I go to the river and fish".
To relax, she likes to be in a quiet space where she can think about her art. She also stays active.
"I also enjoy exercising and a good workout helps me calm down," Mitchell said.
Mitchell is no doubt a valuable asset to Central's art program. Many students love her teaching style and her fun personality.
About the Contributor
Lola Simmons, Print Editor
Lola Simmons is very excited to be the Executive Editor of the Tiger her senior year. She is also the President of the Gay Straight Alliance. In Lola's free time she loves watching Shane Dawson Youtube videos, playing soccer, and walking her dogs. On a snow day you can find Lola sledding and drinking hot chocolate. Her favorite celebrity is Gucci Mane because he is a good rapper, and she says he is "adorable." During her weekly movie night, she usually watches horror movies. Like one of Lola's stories? Let Lola know! Email her at [email protected].