Fierro Spices Up Spanish Class
O-AS-A, O-AS-A. If you've ever attended a class taught by Alejandro Fierro, you can sing that from memory. In all likelihood, you can also rap the Spanish days of the week ("Lunes, Martes, Miercoles…") and count to any number in Español with ease.
Fierro's classes are never boring, and never quiet. Fierro breathes life into a standard curriculum with mnemonics, chants, songs, and culture days, where students learn about the history behind Mexico's most prominent language. Fierro is passionate about Spanish, and his love for the subject shines through in his teaching.
"I love languages, and the connection they create in the world around us. Being able to pass on that same passion is very rewarding." Fierro said.
Alejandro Fierro was born in South America, and later moved to El Paso, Texas. He has been around Spanish-speakers his entire life, and is fully bilingual. Fierro's students look forward to his classes, and often mention that they feel like he is their friend as well as their teacher.
"I believe in building genuine personal relationships with my students to where we reach a mutual respect for one another." Fierro said. "Once that is established, the things I have to say or teach suddenly matter more and have value."
Outside of class, Fierro enjoys cooking, visiting his friends, and working out at the gym. Many of his students react with surprise when they learn that he is an avid gamer, and that he loves Nintendo games.
"If I find some alone time, you can find me duking it out on Mario Kart or Super Smash Bros. with some person online, halfway across the world." Fierro said.
In addition to regular class days, Fierro has three days set aside as "party" days, where students learn about Mexico's history while celebrating Mexican independence day, Dia de los Muertos, and Cinco de Mayo. On Mexican independence day, Fierro experienced one of his favorite moments in any of his classes.
"A student of mine drank the hot sauce [I] provided and attempted her best "Mexican Grito." She started out rough, but then came back and belted one out in true Mexican fashion."
Fierro enjoys his class time just as much as his free time, and loves that he has the opportunity to guide the next generation of Spanish speakers. According Ethnologue, Spanish is the fourth most commonly spoken language in the world, with over 500 million speakers as of 2018. By teaching his students Spanish in a way that they will both remember and enjoy, Fierro is equipping high schoolers with the skills they need to be successful global citizens.
About the Contributor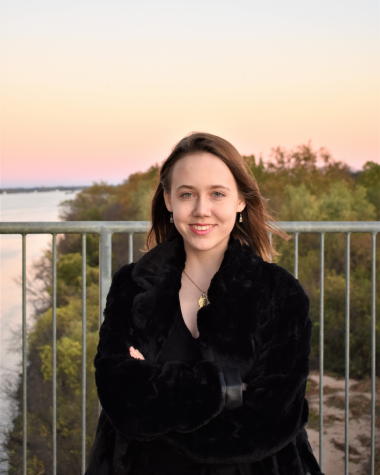 Brooke Elliott, Online Editor
My name is Brooke Elliott, and I am proud to serve as the Executive Online Editor of The Tiger! I am a passionate author and programmer who is working to improve our paper every day. I also work with the Central High Memory Project to preserve the history of minority groups in Arkansas. Like one of my stories? Let me know! Email me at
[email protected]
.