Jenkins Brings Joy to Students
Geometry Teacher Heather Jenkins Brings Joy to Students
Even before you walk into geometry teacher Heather Jenkins classroom, you can feel her loving spirit for her students. Jenkins stands outside and greets her students before every class and really shows respect for each student.
"I always try to be respectful to my kids. I feel like the more respect you give, the more you are going to get back," Heather Jenkins said.
Even though she did not plan on being a teacher, she is now, and she loves it.
"I wrote medical grants, and my plan was to go back to school and get my art degree, so I could write museum grants," Jenkins said.
However, her plan did not exactly go how she thought it would.
"I was going to substitute teach because I double majored in math, and Parkview did not have an Algebra 2 or Pre Calculus teacher. So I went down to sign up to substitute, and the next thing I knew I was in a classroom. That was fifteen years ago," Jenkins said.
She was at a curriculum conference when something a little out of the ordinary happened.
"Mrs.Rousseau followed me into the bathroom and introduced herself to me and just offered me a position to teach all geometry, and I love geometry, so I came over here in 2008."
Jenkins says her favorite thing about teaching is her students, and her students say their favorite thing is her.
"I love Ms.Jenkins so much. I love how she explains things in a different way if we don't understand, and I love that she understands that we have other things to do besides homework," sophomore Danica Kilton said.
Even though her job can be extremely difficult, she loves it.
"Getting to come in every day and watching you guys grow and all these little personalities, and, in some way contributing to that. Just learning from my students. Everyday I have a student teach me something, and I just love that. It makes me a better person,"she said.
Jenkins tries everyday to make her students feel like she cares about them. She knows that education really matters.
"She is an amazing teacher. Her personality is extremely contagious! She wants to help every one of her students to the best of her ability, and always makes us feel safe. I've already learned so much, so she is definitely one of my favorite teachers," sophomore Alex Hinerman said.
Even though teaching is a full time job, Jenkins loves to do other things outside of school.
"Typically I run. I haven't done it lately, but I love to run. I also do photography. I have a photography business. It takes up most of my time. It helps me be creative and do express my creativity," she said.
Most of all Ms.Jenkins spends her time with family.
"Most of my time is spent with my family. Like, doing things with my family, she said. On Sundays I catch up and see what is going on in their lives, what they have going on throughout their week. My family is the center of my rotation."
Jenkins is wonderful at her job and really loves her students.
"Teaching is a complete blessing. In all aspects of it. It's just a complete blessing," she said.
About the Contributor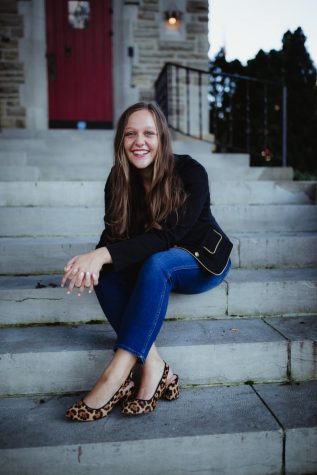 Jane Ellen Dial, Print Editor
Hello! My name is Jane Ellen (yes I have a double name and yes it is difficult sometimes). I am a senior and Co-Print Editor with Annie Fortune. I love to spend time with my family, friends, and dogs. Some of my past times include baking, reading,  anything fashion related, laughing, and really just living life to the fullest. My coffee cup is always half full. As the Gilmore Girls like to say,
"I can't stop drinking the coffee, I stop drinking coffee, I stop doing the standing, and the walking, and the words-putting-into-sentences doing." I am an enneagram 1w2 and I truly am thriving when I am writing in my planner, organizing, or just simply planning my whole life.