Ladies' Club Supports, Empowers Women
Ladies' Club may look like frills and tea time, but it's not full of shrinking violets. The organization, one of the oldest at Central, exists to uplift and encourage women while teaching valuable etiquette techniques.
"We have two meetings each month." club sponsor Angela Bradford said. "In the first one, we have a ladies' powwow. We talk about the struggles of being a young woman. In the second one, we do an activity, like yoga, or we have guest speakers."
The club is dedicated to helping women improve their lives and accept themselves as beautiful. The manners and positive mindsets taught in the Ladies' Club will serve its members well in the future, and help them develop into the best women they can be.
Even teachers want to experience the Ladies' Club.
"Ms. McCormick wanted to join–as a member!" Bradford said.
The positive attitudes in the club are magnetic, and attract many hopeful members each year. This year, the Ladies' Club will hold fundraisers throughout the spring, and will be working to assemble a "clothes closet" as one of their major projects.
"Our project this year is a closet we want to have open, so that girls who have an accident at school or are dressed inappropriately can cover up," Bradford said.
The biggest event of the year for Ladies' Club is the tea party, held in March in the Central library. Ladies use the etiquette they have been taught all year to serve delicious teas to their friends, family, and guest speakers, all while wearing gloves, gowns, and elaborate hats.
Last year, Elizabeth Eckford of the Little Rock Nine was the keynote speaker at the tea time. Other attendees included Principal Nancy Rousseau and Ms. Terry Deloney, who sponsors the club alongside Bradford.
"We start from the inside out to teach and help these ladies." Bradford said.
Ladies' Club meets in the Guidance Conference Room during A-Day lunch, twice per month. The cost to join is $7 a year; see Bradford in the Main Office for more information.
About the Contributor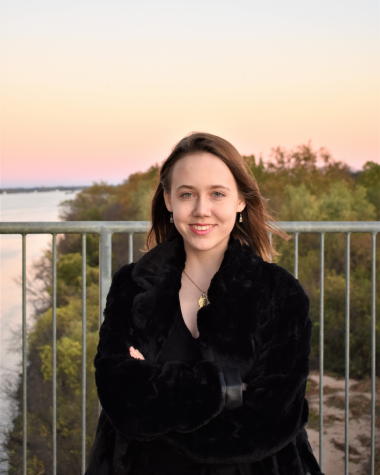 Brooke Elliott, Online Editor
My name is Brooke Elliott, and I am proud to serve as the Executive Online Editor of The Tiger! I am a passionate author and programmer who is working to improve our paper every day. I also work with the Central High Memory Project to preserve the history of minority groups in Arkansas. Like one of my stories? Let me know! Email me at
[email protected]
.