Owen Inspires Curiosity in Students
Chemistry and environmental science teacher April Owen has been passionate about science from a young age. In high school, her favorite subject was chemistry, and she still uses some of her chemistry teacher's techniques in her own classroom today.
Owen has been teaching chemistry for 23 years and environmental science for two. She did not, however, begin her science career as a teacher. Directly out of college she worked for an environmental engineering firm as an analyst who primarily ran water tests for water treatment plants.
"After three years at the firm, I became interested in teaching as a possible career. I enrolled in a new program called Non-Traditional Licensure over the summer, and by fall I was in the classroom!" Owen said. "It was a pretty natural career path for me considering that both of my parents were teachers, in addition to both grandmothers. Education has always been on the discussion table at home."
She began teaching at McClellan High School in 1995 and transferred to Central in 2002 in order to be at the school her own children would attend. Over the past 16 years, Owen has come to love Central and can no longer imagine teaching anywhere else.
"Central is a very unique and outstanding place," Owen said. "It's full of all kinds of talents on both the student and faculty side."
Her favorite part about teaching is seeing how her students develop throughout the year. She finds the most rewarding part of teaching to be when her students' confidence increases and she sees a notable difference in the ease at which they conduct labs.
"I enjoy the curiosity of the students and the confidence they gain as the year progresses," Owen said. "My students go from being shy and frustrated to very confident and at ease by spring."
In her free time, Owen enjoys running. She is currently training for the Dallas marathon on the second weekend in December. She began distance running when she was in the seventh grade and has completed around 30 marathons.
"I'm not setting any speed records, but the training helps me keep my mind and body healthy," Owen said.
During the warmer months, Owen spends a lot of time on the water. She is very passionate about slalom water skiing, but she has recently gotten interested in surfing because, she said, it doesn't hurt nearly as bad when you fall.
About the Contributor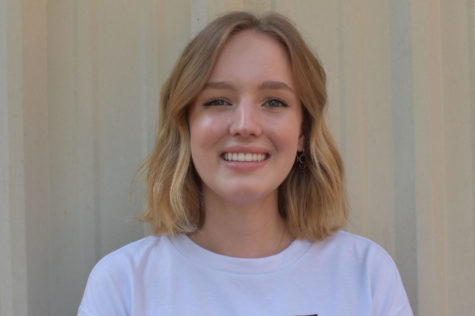 Jessie Bates, Print Editor
I am currently a senior and enjoying my third year on staff. I enjoy Ben + Jerry's chocolate fudge brownie ice cream and baking a variety of unhealthy treats. As executive editor, I aim to highlight the rich diversity of our school and introduce unique perspectives that encourage social awareness and sensitivity toward others. Like one of my stories? Let me know! Email me at [email protected].