Holiman Pursues Love for Journalism, Teaching
Journalism and Tiger staff advisor Carol Holiman has a difficult job that she has to perform everyday-managing and encouraging the Tiger staff, and making sure that her Journalism students are becoming better writers and more informed citizens.
"I like the creativity that I see that happens [on staff], the teamwork," Holiman said. "People have said all my life that you've never been on a sports team, so you don't know what it's like to be part of team. I think that especially in my theatre experience I've experienced a team effort, and also in journalism publications."
Holiman grew up participating in plays at the South Arkansas Arts Center, in El Dorado, Arkansas. She participated in plays such as The Sound of Music, The Diary of Anne Frank, and Bye-Bye Birdie.
"It was a really good outlet," Holiman said. "It was well managed, it was a fun thing to do the summer musical at the arts center."
She also participated in her church, going to youth groups and leading worship services. This was her main social life outside of school as a young adult. Going into college, Holiman was unsure what specifically she wanted to do.
"I loved the world of academia and was interested in many subjects, so it was hard to pick a major in college," Holiman said. "I started out in speech and drama, and then gravitated to English and Journalism. I completed the teaching block my senior year at the University of Arkansas in Fayetteville."
Holiman fell in love with journalism because proper journalism stresses good ethics. She believes that having good ethics is essential to being a good writer, and stresses this truth to her staff writers.
"I try to teach the ethics part because I think it's so important these days with technology; there's so much out there that's not backed up by facts," Holiman said. "I think it's easy for a journalist to be unethical."
Journalism 1 is a class in which Holiman teaches students how to write and follow the all of the ethics associated with journalistic writing. In this class, the students read the newspaper daily and identify what good stories are, and are shown examples of what not to write.
"Journalism I is a very structured class. It serves as an Introduction to Mass Media and study of the different types of journalistic writing. We also study current events and read the daily newspaper because I always say a good journalist should know what is going on in the world," Holiman said.
Her newspaper classes apply that journalistic writing, as well as incorporating skills learned in photography class. She likes that her newspaper classes are creative and enjoys seeing the ideas that the staff comes up with.
"The Tiger staff class is unstructured, with every staff member doing different things each day, including writing, editing, taking photos, and doing layout and design. It is a management challenge, and can aptly be described as organized chaos," Holiman said. "But I am always so impressed and proud of my editors and staff writers, who give the endeavor 100 percent, and have produced awesome award-winning publications throughout the years."
When she's not teaching at Central, Holiman has other hobbies. She enjoys reading and going to book club, practicing yoga, and biking.
"I biked the southern coast of Italy a few years ago, and I am planning a bike/barge trip through Germany and France in the future," Holiman said.
Holiman knows that paper journalism is a fading business, but thinks there is still real life behind journalism as a whole. She thinks it's more important than ever because she believes the world needs ethical reporters. She knows the power of the press, "the fourth estate", and how the press plays a powerful role in the presentation of what is going on in the world. She knows future publications will be all online, but it's just as important to her. She believes journalists have a duty to the country, and she believes her job is to teach students about that duty.
About the Contributor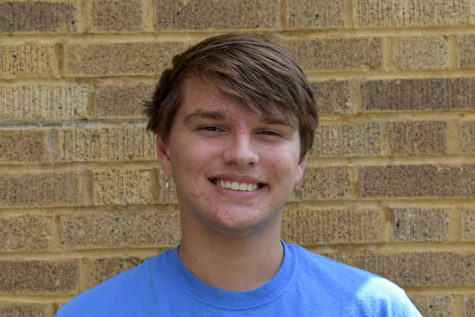 Jakob Mueller, Staff Writer
Senior Jakob Mueller is a first year Staff Writer who describes himself as approachable, friendly, and indecisive. Jakob has been playing tennis for six years outside of school and has been on the tennis team since freshman year. Outside of school, he volunteers by assisting his coach in teaching younger kids tennis. Jakob wishes to continue playing throughout college but does not see tennis as a future career path. Jakob has considered reporting news as a career because he enjoys investigating events and information as well as history and politics. Jakob remembers dreams of his best friend and he being President and Vice President alongside each other. For the time being, Jakob spends his free time playing with his dog Jack, going out with friends, and watching television.
Like one of Jakob's stories? Let him know! Email him at [email protected].