Memories of Ruth Bader Ginsburg

Thoughts by Annie Fortune
Ruth Bader Ginsburg truly was a once-in-a-century person. Being able to see her speak last year was one of the most important events that I have ever attended. The way she spoke about her work and the world was so eloquent and thoughtful. She discussed the importance of persevering through the hard times in order to help others. 
RBG, as she was known, also had an ability to smile through any pain that she faced and showed the world how powerful she was. She kept a sense of humor and became a true icon. She has been such a great personal inspiration in my own life, and in the lives of so many others. When I found out that she was gone, all I could do was break down and cry. The progress that she made for women was incredible and we owe so much to her work. She paved a path for girls who want to work in law and always spoke her mind, no matter what those around her said. We love you, Notorious RBG, and thank you for dedicating your life to making ours better.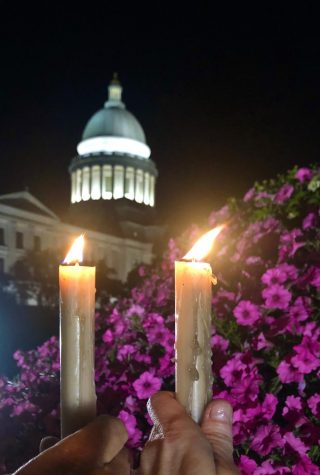 Thoughts by Brooke Elliott
Ruth Bader Ginsburg was a cultural icon, representing the courage, dignity, and tenacity of womankind in her role as a Justice of the Supreme Court. It is deeply tragic that her death has been framed by how it affects the outcome of the 2020 election. She deserves time to be remembered with love and reverence by a mourning nation. Ginsburg fought to preserve reproductive and social rights on a national scale; she was an advocate, a warrior, and a skilled orator who overcame discrimination to rise to the very top of her field. Her actions as a justice will echo through the ages to come, and she will be remembered in our history books for the wise and noble woman she was. She will be missed not only by her family, but by the country that grieves with them.
Rest in peace, RBG, and may your memory be a blessing.

Thoughts by Anna Yates
A space to honor her. As women, we need a space to remember her. Ruth Bader Ginsburg spoke at Simmons Bank Arena last year and I was able to attend. She was so strong: fighting cancer throughout her life and helping her husband finish Harvard Law as he, too, fought that battle. She persevered and achieved. Chills ran down my arms hearing her speak, and that was the first time I truly believed that I could be whatever I wanted to be. I still believe that. Because of her. An inspiration to so many people. A wife, daughter, mother, grandmother, lawyer, judge. She made women believe in the hope of a future where they are included, where they matter, where they belong. A person deserving respect and reverence without asking for it. If only every person who was inspired by her character and her career could link arms and protect her legacy. Since time and distance separate us, we have to use other weapons to wield against forgetting her, against allowing her legacy to unravel. She is honored. She will be remembered. 
Recommendations: watch the RBG documentary, available to watch on Hulu, (covers her early life, entrance into law school, and her career in the Supreme Court) and give yourself a space to remember her.
Thoughts by Natalie Shalin
"Fight for the things that you care about, but do it in a way that will lead others to join you."
Ruth Bader Ginsburg was the epitome of a strong woman. May her legacy live on forever and inspire everyone to fight for equality and bring people closer together. She is someone I look up to and continues to inspire me to live my life to its fullest potential. It is our responsibility to live out her legacy and create the change we want to see in the world.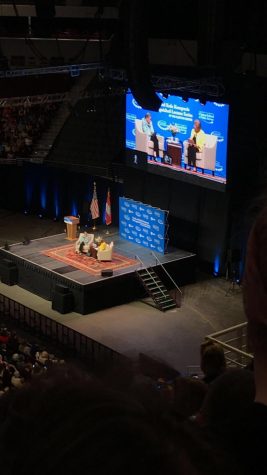 Thoughts by Mary Ruth Taylor
I was fortunate to get to hear the Honorable Ruth Bader Ginsburg speak last year when the Clinton Center hosted her as a part of their Kumpuris Distinguished Lecture series. The event was incredible, and I feel very lucky to have been a part of it. The thing about seeing her that has stuck with me the most is when she first came onto the stage. The crowd immediately erupted at the sight of her; the energy in the arena could've been mistaken for a rock concert. From where I was sitting, RBG looked teeny tiny, like perhaps the noise from the audience would just blow her away. All she had to do, however, was raise her gloved hands in the air and she immediately had command of the arena. She had the awe and admiration of everyone in the building, so it only took a simple hand motion to quiet the elated crowd. I imagined that was how she was in the courtroom too, effortlessly commanding the respect of all those around her. I cherish this memory of RBG because it seems to perfectly summarize all of the qualities she possessed which I hope to someday embody. I will always remember her for her composure, her intelligence, and of course her elegance. She will be dearly missed.