Zone 6: Chris Kingsby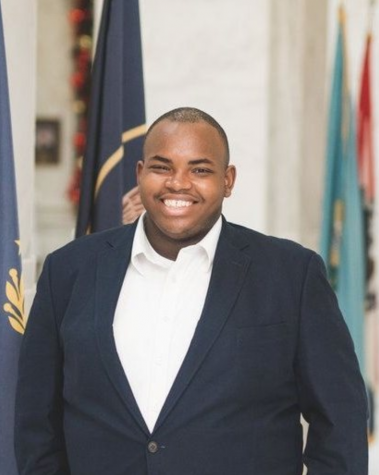 Candidate Chris Kingsby will be the youngest person to have their name on the ballot in the school board election on November 3. Kingsby, running to represent Zone 6, is 20 years old and graduated from Hall High School in 2018 which makes him the first and only Gen Z candidate. 
"Realistically, I believe there are some voters out there that will look at me and say, 'great kid, good head on his shoulders, headed down on the right path, but too young for me to vote for," Kingsby said.
 However, Kingsby's endorsements from state house representatives Joy Springer, Nicole Collier, David Whitaker, and others are proof that many of his supporters do not view his youth as a setback. Kingsby believes that because he is the only candidate that has been an LRSD student in the past few years, his frontline knowledge and empathy for current students are key to guiding the decisions of the new school board.
Kingsby's priorities are concentrated around the idea that schools are the center of our community.
"Parents look at school closures to determine how bad the weather is outside. Even in the face of this pandemic, parents rely on schools being open for whether or not they can go to work or have childcare," Kingsby said. "Bottom line is, our entire lives revolve around the district and we don't even know it."
From Kingsby's own experience, another example of schools guiding communities was the restriction of certain colored shirts at Bale Elementary because of possible gang affiliations. Kingsby believes that similar rules within our schools contribute to the increased criminalization of young African Americans, something he'd fight against if elected.
"We see students that are already policed at home, but then also have to go to schools like Dunbar where they have to roam halls with actual police officers," Kingsby said.
Kingsby wants to see thriving school environments that translate to a thriving future community of Little Rock. He believes that fostering intentional funding and sufficient school environments are important places to start.
"When I was at Dunbar, one of the things I really hated was leaving the building to have to walk to trailers. I didn't understand it and I didn't like it." Kingsby said. "That's one of the things that does subtract from a child's educational environment."
The trailers Kingsby mentioned, also called portables, are usually intended for temporary use. However, at many schools including Central, they have been used as essential spaces for a number of years. 
Remembering his old textbooks that had been signed over a decade before his use and the money that teachers would spend out of their own pockets for classroom supplies, Kingsby believes that budget rearrangement is crucial to improving the quality of our education. He aims to increase teacher salaries and to establish greater classroom budgets if elected. According to Kingsby, he was among the many students that have had to rely on the community in order to afford school supplies.
"Now as an adult, it's like looking at this really big giant that has all this wealth and I've realized that our school district could've been doing more to make sure that kids preparing for every new school year had the supplies they needed to succeed," Kingsby said.
Another one of Kingsby's priorities is to renew the district's fight against discrimination. In his words, that means ensuring that students have equal opportunities and fair environments along with the proper tools they need to succeed. 
"No one will work harder, no one will listen longer, and no one will take this responsibility more seriously than I will. I realize that the LRSD faces some unique challenges right now and we need someone who is going to be student-focused, which is not just a slogan for me." Kingsby said. "I've been the child left behind even when they said 'no child left behind' so I know that we can do more and that it's not enough to just say that it can get better."
Although he's among three other candidates to represent Zone 6 in this election, Kingsby hopes that his unique youth perspective and goals will draw voters to him.  He believes that he has what it takes to improve the quality of our district and our community at the same time.
About the Contributor
Lilah Goldman, Entertainment Editor
Howdy! I'm Lilah, the Entertainment Co-Editor this year! I spend a lot of my free time playing with my many foster cats and doing all kinds of crafts. I also love talking about movies, music, and pop culture so feel free to reach out to me about all your favorites!