Pokémon In Little Rock: Gotta Catch 'Em All
Mira Cary, school news editor
September 28, 2016
Unless you haven't gone outside since July 6, you probably know a little about Pokémon Go. This new game allows people to live out their dreams of becoming a Pokémon Trainer, while walking around their town to find Pokémon. Now you don't have to sit on your Gameboy all day to get your daily dose of Pokémon in.
On the app, wild pokémon will show up on your phone, where you can then tap on them and throw pokéballs at them until you catch them. In Little Rock, you can find areas all around the city that are perfect for an afternoon of hunting.
River Market
Since the River Market is right next to the Arkansas River, you can catch a ton of Magikarp to get towards your 400 candy Gyarados evolution. The River Market seems to be the main spot to hunt for pokémon in Little Rock, and it is understandable. Almost all of the Pokéstops have lures on them, which makes you more likely to catch pokémon that won't show up on the nearby.
Promenade at Chenal
This is one of the best places to walk around and hatch your eggs if you live in the West Little Rock area because the Pokéstops regenerate by the time you walk all the way around the Promenade, so you can get all of the Pokéballs you need. There are also many rare pokémon that pop up. A couple of Scythers, and even a Pikachu have been rumored to pop up.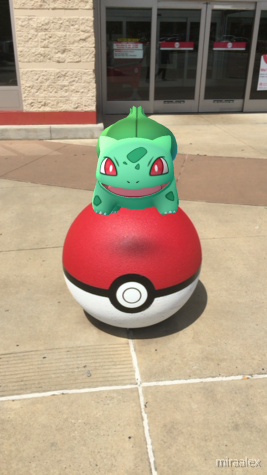 Mellow Mushroom
If you are looking for a place to eat, but need to level up, try going to Mellow Mushroom. Not only is their pizza delicious, but it is also in-between three Pokéstops that usually have lures on them. There is also a gym at the nearby church, Highland Valley United Methodist Church. The gym is usually a hard one to beat because Team Mystic has completely taken it over and made it one of the highest level gyms in Little Rock.
Little Rock Zoo
Wild animals and wild pokémon make this a fun spot for groups of friends to go hunting. With two gyms inside and tons of Pokéstops, you'll get a bang for your buck! All of the walking around to see the real animals will help you hatch all of your eggs, especially those 10k ones, to add even more, and maybe even rare, Pokémon to your team.
Macarthur Park
After looking at the new art displays at the Arkansas Art Center or taking your dog to the dog park, Pokémon hunting is a must in this park. Every couple of feet there is a new Pokéstop to spin, and you will stuff you backpack with loads of items.
Any great pokémon hunter should know these spots to make you the very best, and soon enough, you will have the best team in Little Rock.