Blanchard Springs Caverns: Another World Only A Few Hours Away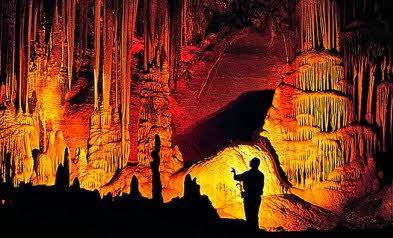 "The most beautiful castle underground, and the called it Blanchard Springs."
So goes a song commissioned by the National Park Service back in the seventies to be used in a super cheesy film about the expansive system of caverns just outside of Mountain View, Arkansas.
Seriously though, they are pretty incredible. When the tour group first entered the caverns through a series of doors designed to keep the moisture in the caves, it felt as though we were entering another world.
As the group wandered further down the slick concrete pathways of the Dripstone Tour, first opened in 1973, the air of the cavern, a cool 58 degrees, sent chills down my spine. This particular cavern ran four football fields long, and featured 60-foot-high columns, some of the largest flowstones in the world, and stalactites and stalagmites everywhere you looked. The sheer scale of the place is difficult to show in a photograph, let alone put into words.
216 feet underground, the caverns were formed by millions of years of work. Eons ago, when Arkansas was covered by ocean, dead shell fish piled up on the ocean floor, eventually forming a substantial deposit of limestone. When the oceans receded, carbonic acid found in rain trickled down through the ground, slowly but surely eating away at the limestone forming the expansive caverns we see today. Once an underground lake, the Blanchard Caverns still have an underground stream which empties out a few miles away.
Despite having been visited by an estimated 3.1 million people since it opened in 1973, Blanchard Springs Caverns is still thought of as "one of the best kept secrets in the Ozarks."
One reason for this is the fact that the National Park System has no advertising budget, and is not allowed to promote themselves. Although no longer the case today, there were talks of closure not long ago according to a longtime tour guide who preferred to remain anonymous.
"The best way to support us is to come to up and see the caverns for yourself," he said.
With three different tours of varying difficulties, Blanchard Springs Caverns is a great weekend trip for pretty much anybody, and there is nothing else quite like it so close to home.