Music Provides Emotional Outlet During COVID-19 Crisis
Due to the stress from COVID-19, it can be useful to have coping mechanisms and distractions. Music can act as a therapeutic release for emotions. Whether making music or listening to it, it can be a healing experience. Here's a collection of tracks that might bring comfort during this confusing time:
#1 "Dreams" by Fleetwood Mac
A hit from 1977, "Dreams" by Fleetwood Mac is from their seventh studio album Rumors. "Dreams" was written by Stevie Nicks in ten minutes and was praised for its dance beat, something the band had not yet experimented with.
#2 "Lonely" by Swamp Dogg
This track is from R&B and Soul artist Swamp Dogg and is featured on his album Love, Loss, and Autotune released in 2018. This auto-tuned track truly emulates Swamp Dogg's painful feelings of loving someone who is being disloyal and his resulting struggle.
#3 "I Feel Love" by Donna Summer
"I Feel Love" was released in 1977 on Donna Summer's I Remember Yesterday album. Although this song only consists of seven repeated phrases, the beat has a way of making one want to get up and dance. This song is a legendary disco hit, topping charts for decades, and making Rolling Stone's "500 Greatest Songs of All Time" list.
#4 "Kids" by MGMT
This song, released by MGMT on their album Time to Pretend in 2005, is meant to bring back a sense of nostalgia. The beat and lyrics start simple and delicate and slowly progress to something much more intricate. This is supposed to represent growing from a child to an adult and all of the struggles that accompany it.
#5 "Pursuit of Happiness" by Kid Cudi
"Pursuit of Happiness" was released in 2009 on Cudi's debut album Man on The Moon: The End of Day. On this track, Cudi battles with his internal problems along with the lowlights of fame and fortune. This track describes Cudi's battle with his demons, how he uses substances to cope, and how the scariest thing someone can do is pursue happiness through substance abuse. 
#6 "Put Your Records On" by Corinne Bailey Rae
In her self-titled debut album in 2006, Corinne Bailey Rae used Bob Marley as an influence to give the message that everything is going to be alright. Rae uses a simple upbeat tune to strengthen her encouragement in finding one's inner beauty and happiness.
#7 "Happy Without Me" by Chloe x Halle
This track features Brooklyn rapper Joey Bada$$ and was released on their album The Kids Are Alright. Chloe and Halle are twin sisters who use this track to describe the aftermath of a breakup in which the other person is pursuing someone else, and you are no longer contributing to their happiness.
#8 "Radio" by Lana Del Rey
Off of her Born To Die album released in 2012, Lana Del Rey explores her newfound fame in this melancholic track. Del Rey discusses what it's like to have people come back into her life because she is now on the radio. In an interview with Billboard about this song, Del Rey said, "I don't care why people are nice to me. If they're nice to me it just makes life easier."
#9 "Sweep Me Off My Feet" by Pond
"Sweep Me Off My Feet" was the second track off of Pond's seventh studio album The Weather. This song explores the journey of trying to get someone to love you, whether it's a specific person or anyone in general.
#10 "Heart of Glass" by Blondie
"Heart of Glass" is a disco pop track from Debbie Harry on her album Parallel Lines. On this track, Harry gripes about what it's like dealing with a lost love. The song was originally meant to be a slow paced song but turned to a disco track to spite the anti-disco sentiment of the 70's.
About the Writer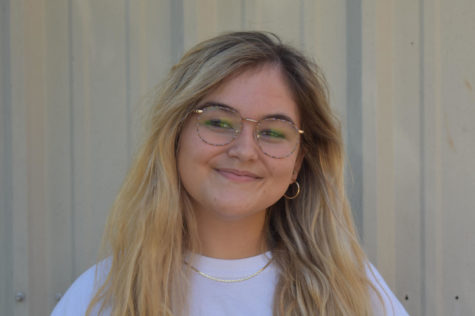 Sarah Gornatti, School News Editor
I'm Sarah, and my closet consists of primarily oversized sweatshirts. I love animals of all kinds, especially my overweight dog named Buddy. Don't be fooled! My blonde hair is artificial, and sometimes it suddenly becomes blue, pink or purple. My official title is School News Editor, but I work behind the scenes as the Grand Inquisitor. Like one of my stories? Let me know! Email me at [email protected].