In-Person Students Face Uncertain Future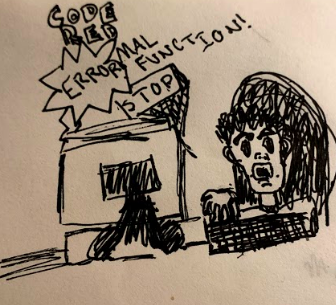 With the sudden switch for in-person students to virtual, many are left confused and feeling out of the loop. There are a variety of reasons why some choose to attend school in-person. Junior Juliet Burress is in that boat of in-person students struggling to adjust to the new online atmosphere.
"I only attended in-person classes because my parents wanted me to. I knew that I work a lot better when I'm physically attending classes, but I also knew that it would be safer to stay home," Burress said
The outbreak of cases among students and teachers has caused a lot of concern for safety, but the education and stressors for students have not been considered. Although virtual students aren't being pushed too off course, in-person students are having to deal with their new surroundings online. A rock has been thrown in the stream and has slowed or completely halted some courses. Not all students who were in-person have the resources to attend online school and are having to reach out to the school and district to acquire them, as well as not being as well versed in the online schedule. Teachers who were working from the classrooms are also grappling to get back on their feet in the classrooms alone.
"The teachers seem to be figuring everything out just as we are. Grades have been hard to get done on both ends and trying to find ways to assign work to old in-person students without access to printers and handouts," Burress said.
The plans for the coming weeks and how the district will respond to the 85 cases has been released. All in-person students are to continue their courses online through this week. In-person students are waiting to see how the rest of their semester will be handled. The main mystery now being, what Wednesdays will  look like. Frustrations are high as many come to their own conclusions on how this crisis could have been avoided. Some students are pointing their fingers towards the continuation of sports during a pandemic, but others believe that everyone had trouble enforcing safety procedures as they should have.
"In a couple of classes we definitely weren't as far away from each other as we should have been, but teachers didn't seem to care," Burress said, "We aren't allowed to sing in choir, but the football players are continuing to play almost as normal? It makes zero sense and probably why there was such a big outbreak of cases. It's infuriating, considering everyone else in the school is being put at a huge risk."
About the Contributors
Colm Simmons, Opinion Editor
I'm a junior here at Central and this is my second year on staff. I am co-editor for the opinions page, and pride myself on my ability to put myself into my stories. I'm here to give you the run on the most pressing matters in the most beautiful package!
Claire Hurley, Staff Writer
I like doing art outside with my friends, writing, and thrifting at Goodwill. I babysit my baby nephew on
the weekends and I'm a junior.